Sailng on Windwanderer.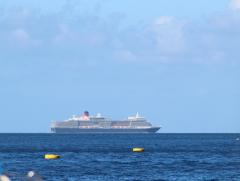 21st Jan 2016
St Helena Thursday 21st January 2016
St Helena Thursday 21st January 2016
Well today was a good day on shore, it's looking like things are stepping up in our little world.
We had to go in early to see if we could get our gas tanks filled, this was our final straw, we have had problems with these guys from word go, as I know I have spoken about them before and their fittings here just don't match ours.
We have begged, borrowed not steal, but came close...haha all kinds of fittings from everyone we could think of.
Finally Larry ( who helped us in his little boat when we first came in.) well he owns a kinda hardware store called the Rose and Crown, well he found a brass fitting that might of just done the trick and with some modifications by The Captain, a fitting from Louis from Ava Del Mar and a bit of welding jobs from Mark we had ourselves a homemade fitting.
We take this in with our two tanks and the guy thinks it might work, we did have to wait till the end of the day to see, as they send them to the other side of the island to get filled and they came back filled, yes yes yes.
Then we went grocery shopping and wait for it got everything on the list, we than went to the pub and even the Internet was working a bit better.
After The Captain had done everything he could think of with the water maker and talking again to the guys in America, we have established, that the special high pressure pump needs to be reconditioned and we can't do that here, the most we can get out of it is about 8 litres an hour which is not great at all, but it's better than nothing. So that's another worry over with for now, it finally feels like things are clicking into place.
We wandered back down to the dock and ran into Steve and Brian from port control, we had a little chat and they told us that the cruise ship The queen Mary was going to come in, they were not stopping just going for a sail around the island.
This was all very exciting as you know it's one of the biggest in the world and can't even fit under the Sydney harbour bridge.
They also said another one was due in tomorrow this one was staying for the day.
So we get back to the boat, and have the camera and binoculars on stand by, we kept a close watch on the ocean as we sure did not want to miss it.
We spotted it after several hour coming in and when it got closer I took a pic of it and I have to say I was disappointed, if this was The queen Mary, she sure did not look that impressive.
It ended up being The Queen Elizabeth, they had made a mistake, when it got closer it did look very classy for a cruise ship and very large, but as cruise ships go she was just ok.
And late in the evening another sail boat came in, we were kinda feeling again like the last ones standing, as there was just one other boat and us left here.
So now there is the three of us, it's kinda nice after all the busyness of the Arc Rally boats.
Well tomorrow is another day.
Diary Photos
21st Jan 2016 Image
No Description
---