Sailng on Windwanderer.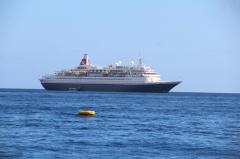 22nd Jan 2016
St Helena Friday 22nd January 2016
St Helena Friday 22nd January 2016
Well there is great excitement on this here vessel, today I got to blow dry my hair, for the first time in 8 weeks, 2 days, 4 hours, and 20 minutes not that I've been counting...haha
And that means? Yeap we have the generator working finally.
What a struggle it has been with having to get a spare part out of Africa, and having to weld the heat exchanger several times, make new gaskets, and give everything a good service and clean.
The Captain finally put it all back together and with fingers and toes crossed we both held our breath and she fired up beautifully, she is charging the batteries just fine, ( no more running the noisy main engine) and an added bonus we are now getting around 12lts an hour out of the water maker, well done Captain hats off to you.
It might seem like not a big deal, but I can now run electrical appliances as well, not only have decent hair, but I can vacuum, no more wiping floors with rags, I can use the microwave, and the blender, smoothies coming our way again, and anything else we so desire, man I feel like I have just stepped back into the 21st century...haha
We decided to stay on the boat today as the Cruise Ship came in early this morning and from previous experience, we thought it best just to stay out of their way.
This one was a lot bigger than the other one and we have watched constantly the boats going back and forth all day ferrying them to shore and back.
This morning early I got stuck in and finished cleaning the hull of the boat, she is no where near perfect, and sure has a lot of battle wounds, but it was the best I could do under the circumstances, man it was hard work, with all the movement out here and trying to hold on and scrub and not get thrown out of the dinghy, sure was a challenge.
All I need to do now is the oiling of the timber trims and I can cross that off my list for a little while, and the boat chores list is slowly going down.
Well tomorrow is another day.
Diary Photos
22nd Jan 2016 Image
No Description
---