Sailng on Windwanderer.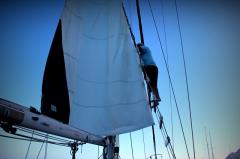 24th Jan 2016
St Helena Sunday 24th January 2016
St Helena Sunday 24th January 2016
Well today I managed to get the outside of the boat finished, I decided to start early as the ocean was a lot calmer.
I managed to oil one side and was actually enjoying myself, the sun was shining and all was going smoothly, until I got to the other side, oh man, The captain brings me around ties me off and it started getting rough.
The whole time I'm doing the Time Warp, and I have to say I must have really good balance, as I did not fall in once, there were a few times I came very close to it and The Captain wanted me to tell him first so he could get the camera ready, ( Yeap a lot of pirate language got flown in his direction).
But it's done and dusted, she is not perfect but it sure is an improvement from when we first sailed in here.
Meanwhile The Captain was doing boat chores as well as having to stop every ten minutes or so to move the dinghy, ( which I'm sure there was pirate language getting thrown my direction as well).
He has been up the rat lines and repaired the hole in the sail, has topped up all the batteries with water, changed anodes in the main engine, and the leak in the steering housing, which after checking again does not seem like it's leaking.
Now why have we been so flat out getting stuff fixed? Well we are leaving this week.
Yeap you heard right, we have finally made a decision and are going to get the work done in Trinidad. It's looking like Wednesday or Thursday will be the day.
We thought we would do something different this time and instead of leaving a country to start a big voyage, with all systems working perfect, well we are going with the engine not working perfect. At least we won't be stressed out and disappointed when we get to the other side, cause it will already be a breakdown....haha
We are not stupid and being irresponsible going without the engine, as we have established that we can top it up with fluid to motor out of here, and the same when we get close to Trinidad, after all we are a sail boat and that's what we will do, sail, and this run is known as the Milk Run and should be easy sailing.
This is going to be our biggest crossing yet, its just over 3800nm and should take about 5 weeks to get there all going well, if we have light winds well it may take longer, but what's another week or two.
As for the Pirates, well I know the kids are a bit anxious about this and we are a tiny bit too.
But we are taking all precautions, I have been hiding stuff just in case, but after talking to the people that run the marina in Trinidad, there has only been two cases reported, and all has gone quiet now, the Coast Guard is patrolling the whole time, when we get closer to Trinidad we have a radio frequency that we can tune into, and let them know we are in the area, and if we were really uneasy we can call up the Coast Guard and they will escort us in.
But hundreds of yachts come and go from Trinidad all the time. It's a very big sailing Mecca so they are going to do everything to keep the boats coming in, so we are not really that concerned, and they are not like the Somali pirates who would just as soon shoot you and take your boat. These guys are just after cash and laptops, cameras anything they can sell quick to make money. ( good luck getting anything of value from us, they would probably take one look at us and decided we are not worth the hassle...haha).
So kids don't worry, I know you often feel like you're the worried parents and we are the irresponsible kids, but we will be fine, we are not stupid and would never put our lives at risk unnecessary and besides we will keep in contact with you all the way just like all our other crossings.
Well tomorrow is another day.
Diary Photos
24th Jan 2016 Mending sails.
No Description
---