sailingfastforward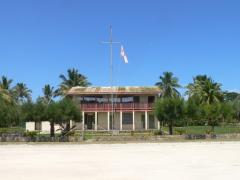 19th Oct 2007 - 2nd Nov 2007
Kingdom of Tonga - Part 2
HA'APAI GROUP 19 October 54nm
The trip was not bad, and as always it was good to drop the hook close to a beautiful uninhabited island! We went ashore after lunch and walked all the way around the island in an hour! We also attempted a swim, but the water was cold, very murky and the surge was quite strong… would rather relax on board thank you! Enjoyed an evening of good company and a scrabble game, then motored the 14nm to the town of Pangai on one of the most gorgeous windless days we'd experienced thusfar. Friends told us that we could watch the rugby world cup final at Mariners Cafe. We were stoked! This would the second time that South Africa was in the final!! It was a scorchingly hot day, and once we eventually found a place to anchor (dodging a serious amount of coral heads in very shallow water!!) we decided to go ashore a while later to have a look around and perhaps have a drink at Mariners. We spotted a dinghy approaching – the couple on Angelique came around to invite us to a "Tongan Feast" – at $20 a head we accepted and made arrangements to meet them ashore later. Aaah the joys of cruising – where else on earth would you just go out to dinner with people you'd just met and spoken to for 5 minutes?!
We dinghied ashore together with the Wombats – local kids were having a ball jumping from the dock into the sea fully clothed – quite relieved our boat was not anywhere near this happy screaming lot! We had a wonder around… again lots of pigs everywhere and hardly a dog to be seen! Clearly Tongans didn't work on a Saturday afternoon as everything was closed - including Mariners, but they did have a blackboard outside saying they'd be televising the game at 8am. We'd heard that the owner was an ex South Africa and that he was anchored in the harbour, so we stopped by on our way past and asked if he'd be serving breakfast… his enthusiasm overwhelmed us (NOT!) and reluctantly he said yes. Quite frankly, he'd have been a fool not to as there were at least 10 people (that we knew of) who wanted breakfast!!
As arranged, we met the couple on Angelique at 6pm on the dock, and were picked up in a clapped out minibus and taken to a locals' house, which was ideally located right on the beach. We were starving! Having only heard about a Tongan Feast – we didn't really know what to expect. Well, there we were enjoying our sunset drinks (complete with beautiful floral lei's around our necks!) when suddenly we saw Paul (the son of the lady who picked us up - let's just call him that cause I actually have no clue what his name was!!)… anyway, so we saw Paul carrying this gorgeous little suckling piggy (except : piggy was dead, gutted and had a long pole stuck through the two obvious orifices of his body!!!) – he was to be a rotisserie piggy… our supper! Paul was just giving him a wash in the sea (to salt him!). I quickly got over the initial shock (as I think piglets are incredibly cute) and made my way over to the bbq area as I was rather intrigued by the "rustic" rotisserie system. Paul's father sat at one end and physically turned the piglet round and round – for over an hour and a half! Next, in a deep-ish hole dug earlier that day, two other boys brought the root veg which would be cooked in this "umu" (underground oven). The veg are put on top of hot coals, then lovingly covered with a pile of blankets! At about 8pm it started raining, but our plastic table and unmatching chairs were rather snug under a small marquee… the table was literally groaning with enough food for 10 people. There were only 5 of us (the 5th person was some poor young woman from Australia who needed a break from reality and was trying to "find herself"). Entertaining to say the least! The roasted pig was delicious, despite being very fatty. We had a selection of veg cooked in various ways, most of it was good. I am quite relieved that I wouldn't be required to rush off and buy taro and bread fruit. Both are very starchy and cannot even be compared to a potato. In fact both have the consistency of very very very dry sweet potato and taste like nothing. All in all it was a very pleasant evening and we got back to the boat after midnight!
Up bright and early, we headed ashore to Mariners. The owner was in a slight tizz about getting breakfast orders out – we thought we'd add to the pressure by requesting some baked beans as well!! The Wombats arrived shortly after, as did the owners and crew of Saildance II (we're very friendly with the crew, Dave is skipper and a fellow South African, and Niskha, his Polish fiancé). The game itself was not very exciting – but at least South Africa are the 2007 World Cup Rugby Champions!
It was decided that while we still had good light, and could see all thecoral heads, we should move to another anchorage. Uiha was recommended and off we went. There was a beautiful long beach that Lynn and I couldn't wait to get to, but it was cold and rainy – we bailed, but they went ashore. They all came around for supper that evening and we enjoyed 2 games of Scrabble. The weather was slightly better in the morning and we were dying to really stretch our legs!! The shelling wasn't bad either!
NUKU'ALOFA, TONGATAPU 94nm
It was Monday, 22 October and our next stop was going to be Nuku'alofa, Tongatapu – the capital of the Kingdom of Tonga. Sam and Nathan were flying out on Thursday, 25 November. We'd heard that there was supposed to be a "good weather window" for New Zealand on the Thursday/Friday – which we wanted to take advantage of – but would have to wait for more info before making a decision. We set off just before sunset and headed out (Mike in front) to exit through the cut called Ava Mata Mata Vika. My goodness, it was like being at a fairground!!! The swell coming in was horrendous!! Nathan insisted on putting a line out – yip you guessed it – managed to catch a big fish which, to his disappointment was taken (most likely) by a shark!!! So he had the leftovers! Much to our disappointment the conditions only improved slightly and a very uncomfortable ride was had by all!!! We ended up motor-sailing most of the way as the wind was on the nose.
As expected, we were all relieved to arrive in the calm waters of Tongatapu! Mike found a spot in the sheltered harbour "marina" very near town - we weren't too keen on this setup, so we opted to anchor out at one of the nearby islands (along with about 25 other boats!)… it would mean either a ferry ride or a wet dinghy ride into town, but it suited us just fine!
Tongatapu's 259 square km's are just over a third of the kingdom's surface area, yet two thirds of Tonga's population live here.
After anchoring I suddenly had a burst of energy and washed the boat down as it was covered in salt from our trip over. We met the Wombats ashore later and they showed us around the dusty and not too ramshackle town. From a distance we could see the very run down Victorian Royal Palace (King and Queen nowhere in sight!). Many old colonial style residences line the main road as do a number of impressively huge churches. Centenary Church is able to seat 2000 Free Wesleyans! The daily local market is something to behold – not just for fresh produce, but for the arts and crafts! Wow, Lynn was right – there was a huge choice compared to Neiafu!
An unusual and unique sight was their cemeteries! Often set in a grove of frangipani trees, the graves are strange, sandy mounds marked with flags and banners, surrounded by inverted beer bottles, lots of artificial flowers, seashells, and black volcanic rock. Some even have massive "headboard" type structures erected at the head of the grave that appear to be covered in huge quilts! Recent innovations are the miniature houses and concrete tombs often painted in the national colours or decorated with art. Initially the graves are visited daily and family members spend hours there only leaving at nightfall for fear of ghosts. They continue to visit with declining frequency for about a year, but after that the grave is abandoned as it's believed that the spirit of the deceased remains, and can cause sickness amongst the living and even another death. On public holidays such as All Saint's Day and Christmas people return to clean up the family plots.
The Wombats also introduced us to a very proficient wood carver called Victor whom we commissioned to carve 2 Moai (Easter Island heads – we did not buy one whilst we were there as we felt the workmanship did not do the huge statues any justice!). So Lynn went though our pictures and printed out a few for Victor to work off – and he did an outstanding job!!
ISLAND TOUR Thursday, 25 October
On Wednesday we negotiated with a taxi driver to give us an island tour – but dropping Sam and Nathan off at the airport first. So off we went at 9m after a hearty breakfast ashore. The island was very lush, poor and surprisingly flat - and did not have too much to offer in the form of "tourist attractions". Our second stop was "Tonga's most engaging relic"… a Trilithon, which is a structure consisting of an arch made from three huge rectangular blocks of non-stratified limestone. Two huge upright pillars of coral, each about 5 meters high, support a central lintel that is 5.8 meters long and weighs 816 kgs. The name means "The Burden of the God Maui" (according to the myth, Maui carried the trilithon here on his shoulders all the way from the Wallis Island using the connecting stone as his carrying pole). Exciting indeed. Sadly, the rest of the archeological ruins were well, ruined, overgrown and unkempt.
Our next stop just was across the lagoon from Nuku'alofa – a monument marking the spot where in 1777 Captain Cook landed from his ship the Endeavour and rested under a bunyan tree. We were then taken to the "finest of the terraced tombs" (of ancient royalty) were rather hidden in the dense overgrowth down a side road. I was hoping this day would get better. And it did! Our next stop was the blowholes! Very impressive indeed!! For the length of the Southern coastline, surf is forced through naturally formed air vents creating spectacular blowholes. Waves batter the table-top coral shelf and spout water up to 30 meters in the air! The sea was a bit rough so we had quite a show!
On our way back to town we stopped and saw the flying foxes (like huge bats). Here there are daytime feeders that roost alone or in small groups in the rainforest canopy, as well as nocturnal ones that live in colonies of several hundred, either in the rainforest or in trees along the roads. In Tonga they enjoy royal protection whilst in Samoa they are hunted by villagers.
We decided to pop by Belladonna on the way back – immediately we were invited on board and offered drinks – not an uncommon practice amongst us yachties! John, Deborah and Anthony twisted our rubber arms and soon we ended up at the bar at Big Mama's!
Although the South Pacific is a region of great variety, there are a number of rituals and ceremonies that many islands have in common. The most important of these is the kava ceremony found in Tonga, Fiji, Somoa and Vanuatu. Kava is a drink made from the crushed root of the pepper plant. The powder or pulp is strained and mixed with water in a large wooden bowl and drunk from a coconut-shell cup. Elaborate protocols accompany formal kava ceremonies although kava is also a social drink consumed by ordinary people when they get together to relax and chat. And relax and chat we did that very evening!! At about 9pm the bucket of kava came out and we were all beckoned to remove our shoes and sit in a semi circle around the two guys mixing and dishing out the very disgusting looking mixture. Bearing in mind that to decline kava when it is offered is to decline friendship! There was slight face-pulling but not much complaining evident as the coconut cup was passed around and refilled (you are expected to drink everything in the cup by the way)… my turn arrived and I nearly gagged! It looked like white mud and tasted worse. I just packed up laughing and said it was revolting! Of course everyone laughed! Ken was doing so well swallowing copious amounts of kava!! My turn came round again and I honestly could not drink the entire cup, but did not want to offend them either – I could only manage a big mouthful. These guys were so cool – on the next round, he only scooped a tiny amount for me – and eventually did the same for Deborah! The drink supposedly makes you very mellow, slightly high, but never drunk (not sure about this part though!!), it was however mixed strongly enough to make our lips and tongue numb. All in all it was a great and special evening, even though none of us wanted another zip of kava, ever!!
The following morning dawned and we both had headaches. And the weather was STILL foul. System after system was coming through, bringing howling wind and torrential rain – sending ripples of mild panic through the yachties waiting for that "weather window" to head off to New Zealand. Lynn, Deborah and I could not wait to get to New Zealand, we just wanted this leg behind us. Of course we'd heard horror stories, and had just heard another one from our friends John and Deborah (on a beautiful 72ft aluminium cat called Belladonna; Anthony is crew) – the story went that a huge 120ft aluminium catamaran left Fiji, got caught in bad weather and unfortunately incurred serious damage. Not something you want to hear when your boat is a third of the size, let alone half the size (of one of the hulls!!!). Some women were even refusing to do it - insisting their husbands got crew so that they could fly instead!
On Friday, 26 October Ken suggested we go to the Australian Consulate as I needed to arrange a visa for our visit to Australia on 28 November. I had been in e-mail contact with them and was told it would take up to 2 weeks, but my passport would also be sent away. I did not want to leave it to last minute – especially since we had no idea when we'd be arriving in NZ. So off we went in the dinghy. Ken's visa was issued immediately, and they were very understanding and concerned about my situation. She advised me to complete the form, attach photos, a bank statement and a copy of my ticket and she'd have it ready early the following week. I was thrilled! So off we went to the internet café to download a recent statement. On handing in the forms she consulted her manager who said to come back at 3pm THAT afternoon!! WOW! We were seriously impressed! I could not believe my luck and had one thing less to worry about!
As in Tahiti, we marveled at the many He-She's - the 'fakaleiti' – Tongan men who behave and dress as females (in Tahiti they are called 'mahu'). It is commonly said that Tongan parents with too many sons and not enough daughters will dress one of the boys as a girl and assign him to perform girls' chores, such as housecleaning. There is little evidence that this characterization is correct, since Tongan parents rarely wish for one of their children to grow up as a fakaleiti, and some fakaleiti grow up in families with many girls and fewer boys. Mainstream Tongans never consider fakaleiti as women, although they may indulge their claims of being like women. Mainstream society treats fakaleiti with a complex mixture of impatience, mockery, tolerance and occasional admiration for the dressmaking, hairdressing and decorating skills - particularly in the context of beauty pageants. Although fakaleiti in Tonga do not necessarily associate with transgender or gay and lesbian identities in the Western world, those who grow up in Tongan migrant communities in New Zealand, Australia and the USA may find a greater level of community and affinity to similar identities than fakaleiti in the island kingdom. We saw many working in shops and restaurants and some are very convincing females!
In all Tonga was a great experience despite all the rain... perhaps it was preparing us for New Zealand!
Diary Photos
19th Oct 2007 Welcome to Pangai, Ha'apai
---
19th Oct 2007 Seriously large trees these!!
---
19th Oct 2007 Cells in the police station
---
19th Oct 2007 Ken, Mike and Nathan talking to the local policemen
---
19th Oct 2007 An old legend
---
19th Oct 2007 The local library
---
19th Oct 2007 What beautiful flowers...
---
19th Oct 2007 ... this little piggy stayed at home
---
19th Oct 2007 Surely that's not comfortable?!
---
19th Oct 2007 Little local houses
---
19th Oct 2007 Fast asleep on a stretcher in their garden
---
20th Oct 2007 Confirmation of the long awaited rugby game
---
20th Oct 2007 Our Tongan Feast location...
---
20th Oct 2007 Rather pretty setting!
---
20th Oct 2007 Giving piggy a good wash!
---
20th Oct 2007 Aaaah shame!
---
20th Oct 2007 Getting ready to bbq piggy
---
20th Oct 2007 Works like a charm!
---
20th Oct 2007 What a picture!
---
20th Oct 2007 Our dining company
---
20th Oct 2007 Our dining table - before it started raining!
---
20th Oct 2007 Just about done!
---
20th Oct 2007 Vegetables being prepared in umu
---
20th Oct 2007 Insulating the umu
---
20th Oct 2007 Our hostess
---
21st Oct 2007 Audience watching the rugby match
---
21st Oct 2007 Amabokkebokke! We are the champions!
---
21st Oct 2007 Her Sunday best!
---
21st Oct 2007 Family coming back from Church
---
21st Oct 2007 Mariners Cafe... and the owners
---
24th Oct 2007 Beautiful lions carved by Victor
---
24th Oct 2007 Fancy a haircut?
---
24th Oct 2007 Mmmm interesting
---
---
25th Oct 2007 Very popular thing this corned beef - can get 5L cans of it!!
---
25th Oct 2007 A guy we saw at the airport
---
25th Oct 2007 Sad farewell to Sam and Nathan - here with our very good friends, Mike and Lynn
---
25th Oct 2007 Petrol jockey...
---
25th Oct 2007 The very exciting Trilithon
---
25th Oct 2007 They start them young!
---
25th Oct 2007 This is different - pigs on the beach...
---
25th Oct 2007 Blowholes...
---
25th Oct 2007 More blowholes...
---
25th Oct 2007 Mmmm impressive indeed!
---
25th Oct 2007 Blowhole coastline...
---
25th Oct 2007 Flying foxes
---
25th Oct 2007 Flying foxes...
---
26th Oct 2007 Local market in town selling fresh veg and crafts
---
---
---
26th Oct 2007 More local crafts
---
26th Oct 2007 Local carvings
---
26th Oct 2007 Ken negotiating a deal at the craft market
---
27th Oct 2007 Local market
---
27th Oct 2007 Good name for a store?
---
27th Oct 2007 Tonga and the dateline issue!
---
28th Oct 2007 One of the interesting graves at a cemetary
---
28th Oct 2007 One of the many cemetaries
---
29th Oct 2007 Bingo hall!!
---
29th Oct 2007 Locals out and about
---
30th Oct 2007 Another one of Victor's amazing carvings
---
30th Oct 2007 And another exceptional carving by Victor... thanks Sam and Nathan!
---
30th Oct 2007 Victor's workshop
---
30th Oct 2007 The man himself - Victor!
---
30th Oct 2007 What cuties!
---
31st Oct 2007 Local church...
---
31st Oct 2007 Beautiful reef fish for sale at the fish market
---
31st Oct 2007 Clearly they'll eat anything!
---
31st Oct 2007 No, this is NOT juice. Too afraid to ask... perhaps fish entrails?
---
31st Oct 2007 Nuku'alofa fish market
---
31st Oct 2007 View to outlying islands from beachfront road at Nuku'alofa
---