Sailng on Windwanderer.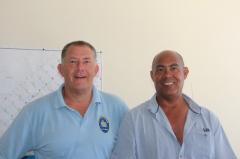 28th Jan 2016
St Helena Wednesday 27th and Thursday 28th January 2016
St Helena Wednesday 27th and Thursday 28th January 2016
Well our last few day here in St Helena was just a whirlwind of activity, from checking out weather Windows, last minute emails and Skype calls and such.
Than to get the boat ready for ocean mode, this took a good chunk of two days I tell you.
On Thursday departure day although we were no where near ready to go, we had decided to clear out anyway.
So off to port control, we were blown away by the response from Steve and Brian, we got lots of hugs and I got kisses as well.
It was really sad to say goodbye as we had become quite good friends I walked away with tears in my eyes.
We will miss you guys and it was a pleasure getting to know you, actually we will miss St Helena it was such a mix bag but we loved every minute of it.
By the time we got around to immigration and customs it was getting late in the day, we jumped back on the ferry and we had ourselves a little trip back with a young friend of Johnny's driving us back.
Again it was another sad goodbye as Johnny was another guy we had made good friends with.
Now the fun began in ernest, we just needed to get the last minute things organised and if we could get out of here while there was still a little bit of light left in the sky we would set off.
We did have Johnny on stand by who would come out and help if we could not get the engine running and the boat moving.
It was a struggle to undo all the ropes that were tied to the moorings, and having to cut some of the ropes just so we could be set free.
There was a very tense moment when we put the engine in gear, but she worked perfect, we motored out of the bay, called up on the radio first to tell Johnny we were fine and goodbye, than St Helena radio, St Helena radio, St Helena radio...haha we will miss this, and said our fond farewells.
And here we are the twinkling lights of St Helena long gone, and we are once again back out in the big blue, who knows what is install for us, are we anxious? Yes but I'm sure we will be fine.
Well tomorrow is another day.
Diary Photos
28th Jan 2016 Image
No Description
---
28th Jan 2016 Image
No Description
---