Sailng on Windwanderer.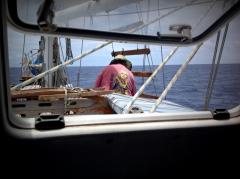 29th Jan 2016
Passage to Trinidad Day 1 Friday 29th January 2016
Passage to Trinidad.
Day 1 Friday 29th January 2016
Position 15°12'S 006°02'W
12am
Well this old girl of ours got her knickers in a knot, well not quite a knot more of a tangle.
After a very sleepless night, well I did manage about two and a half hours, but way not enough.
No matter what, I could not sleep, we had quite big seas and we were just rolling from side to side, Aut (the autopilot) was working overtime trying to keep us on course.
Which means he protested very loud and sure made it known he was not happy, man was he moaning.
The Captain suggested that I try to sleep in our cabin, I was totally against this until after a few hours of tossing and turning I finally gave in.
I was in the land of nod, when I was woken up by The Captain, cranking winches, I laid there awhile until I started hearing pirate language and knew I had to get up.
Sure enough not only was The Captain having a hissy fit, the main sail was right up there with him.
It was jammed tight in the furling system, somehow it had folded out onto itself and we had three folds of sail all trying to come out of a slot that can only take one width of sail.
No matter what it would not go in or out, The Captain tried several different methods of unjamming it, which only resulted in snapping two ropes, and one was actually inside the housing at the bottom of the system, just great.
The only solution was to pull the rest of the rope out and try and feed a new one in, the only problem with this is it has to go through a pulley wind around a drum inside the system and thread back out through two pulleys.
We come back in the cockpit to have a little think about this and look up and the wind has caught the sail and unrolled it. It was crazy the pressures we put on it trying to get it out, and what happens we leave it alone and the wind does it for us.
We eventually get a rope threaded through, after trying wire and string, crochet hooks, screwdrivers and The Captains favourite little tools that look like dentist tools.
And as I write, he his out there sewing his little heart out, in a straw hat, rocking and rolling away, splicing two rope together, to complete the job.
11.30pm
Position 15°00'S 006°32'W
Well it's been a very quiet afternoon and night, we have both had a nana nap, and The Captain is fast asleep across from me, as I write.
We have very little wind it's lucky to reach 8knts and are speed is around 2.5knts, we only managed around 66nm today which is pretty sad considering we have three sails out.
But the ocean is dead flat, it's a balmy night, and the stars are just magnificent.
Oh and today I saw a shark, well a fin at least it swam past the boat quite fast than did a little turn back towards us, then disappeared.
Well tomorrow is another day.
Diary Photos
29th Jan 2016 Image
No Description
---