Sailng on Windwanderer.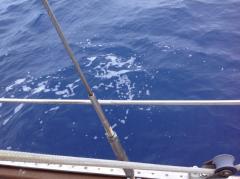 30th Jan 2016
Day 2 Passage to Trinidad Saturday 30th January 2016
Day 2 passage to Trinidad Saturday 30th January 2016.
10.30am
Position 14°28'S 006°55'W
Well I'm a lot happier today I managed around 5 hours sleep and man did I need it.
At the moment The Captain is sound asleep across from me once again.
I did have to just wake him as we had the generator running and I was under instructions to turn it off after an hour.
So being the good little girl that I am, I go down and switch it off and turn off the auto pilot by mistake.
Man alarms are going off in all directions, I make a mental dash up the steps and Aut has decided not to come back to the party.
Eventually after giving him a severe tongue lashing he decides to join us once again, but we were heading in the wrong direction.
I might add The Captain slept through all this, but I had to wake him as I had not taken any notice to what heading we were on.
So now we are not heading for Brazil, ( although Wanderer thinks it would be a good place to visit, she seems to like going in that direction over and over,) we are now back on track once again and The Captain is snoring away again.
11.30pm
Position 13°55'S 007°22'W
Well it's pitch black out here, I'm not sure if there is even a moon at all, it sure doesn't seem like it at the moment.
We have very little wind again it's lucky if it reaches 8 Kts and our speed is a staggering 2.4 Kts.
But we were going better through the day and averaged around 4.5 Kts we even managed to do 81nm so that was a huge improvement from yesterday.
The ocean was a bit rougher today with a 2-3 mt swell, but we had one massive wave it came out of nowhere and picked us up, and was like sailing over a huge mountain, it even woke The Captain, it was a bit scary, it came from nowhere and just went on its merry way, all very strange.
Also the colour of the ocean is a funny almost purple tinge to it another very strange.
Well tomorrow is another day.
Diary Photos
30th Jan 2016 Image
No Description
---