Sailng on Windwanderer.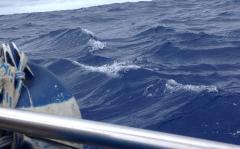 31st Jan 2016
Day 3 Passage to Trinidad Sunday 31st January 2016
Day 3 Passage to Trinidad Sunday31st January 2016
11.00pm
Position 13°02'S. 008°18'W
Well it's been a ho hum day, not much has happened, other than changing coarse about a million times.
Serious we have been heading everywhere all day sometime to Brazil, but most of the time back to Africa, I swear it still has a hold on us.
The way we have been heading we could just skip to the top of Africa hang a right, or should I say starboard, and then we could just sail into Morocco or Spain, now that would be nice I really would love to spend some more time in Spain.
But at the moment once again we are actually heading in the right direction, how long it will last I have no idea.
Because we have done so many dog legs today we only managed around 71nm, at this rate it's going to be a very long long trip.
We have had two breakdowns today one, we lost a shackle pin from the preventer holding the main sail, but that was an easy fix, and tonight the generator cut out, we are hoping to have a look at it tomorrow and that it will be another easy fix.
As for the ocean it's been a bit more wilder out here today we have had winds upto 18kts and speed pushing 6 kts, with 2-3mt waves.
At the moment we are doing 5 kts and the wind is sitting on 12 kts, but it's starting to feel like it's settling down some which is nice.
Well tomorrow is another day.
Diary Photos
31st Jan 2016 Image
No Description
---