Sailng on Windwanderer.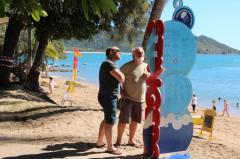 2nd Feb 2016
Day 5 Passage to Trinidad Tuesday 2nd February 2016
Day 5 passage to Trinidad Tuesday 2nd feb 2016
First off I want to wish The Captains son Robin a very big Happy Birthday, we so hope you had a great day and there is an email on its way if we can ever get through on Sail Mail, we have been trying for days.
11.45pm
Position 12°25'S. 011°17'W
Speed 4.2kts winds 10.5kts. That's the fastest speed and winds we have had all day, man has it been a slow day.
We really have been just crawling along all day and lucky to have been doing 2 knts, there has just been no wind.
Oh and I want to state for the record, that The Captain is getting brutal, he threw a plate at me today.
Well ok it was a paper plate, and he was trying to peg it out the cockpit, but it was folded and it did hit me dead smack in the middle of my eyes.
Actually after we stopped falling apart with laughter, well it was funny and he did apologise several times but talk about a lousy aim, or was it on purpose?
I decided to go for a walk around deck, as its been so dead out here that the boat has hardly been swaying at all.
I was on my daily flying fish hunt, but only found two, we have seen a lot of schools of flying Fish and I was surprised that I only found so little.
I also found three paper plates as well on The Captains side man he sure is a lousy shot and Captain you are now forgiven, no one could throw that bad....haha
We finally managed to get some emails sent through today, I have been trying for almost 5 days and have had no luck, so tonight while I was on watch I sat down at the nav station not watching...haha
Well we did have all the alarms on and I came up on deck every now and then so that was ok.
But I was determined that they were going to go through and finally they did, sail mail keeps telling me we have 13 incoming messages but I only managed to download three, so tomorrow I'll try again.
Well tomorrow is another day.
Diary Photos
2nd Feb 2016 Image
No Description
---