Sailng on Windwanderer.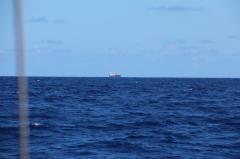 3rd Feb 2016
Day 6 Passage to Trinidad We'd 3rd February 2016
Day 6 Passage to Trinidad Wednesday 3rd feb 2016
11pm
Position 12°03'S. 012°47'W
Our speed is 3.2kts and the wind is blowing about 9 kts, we have lumpy seas but not too bad.
We had ourselves some excitement today, our first ship in 6 days, it's crazy that we have not seen anything for ages, and today we got very up close and personal with a huge arse ship.
The generator has been playing up again and has overheated twice now, the first time it just started working again after we left it for awhile, but today was a no go.
We had to run the main engine to charge the batteries which is a pain as it takes so long to charge and noisy as well.
So after The plate thrower had himself a little sleep, he decided to go down and see if he could fix it, out come all the tools up come all the floor boards and he goes to work.
He is right in the middle of it all when the ship shows up on the radar. Now normally I just keep an eye on it and it's fine.
Well this huge arse ship was getting closer and closer and not changing course at all.
Out come the binoculars and I'm watching it getting closer and I'm relaying the distance to The Captain, he eventually gets out of the bilge ( when he hears the terror in my voice) the ship is about 3nm away and it says on the AIS system that they are going to pass within 20.7mts.
Now we are in the middle of the ocean the closet land is Brazil, ( which I might add this vessel of ours still wants to visit, we still have not convinced her that it's not a good idea) Brazil is the closest land and it's over 1300nm away and this cargo vessel decided it wants to pass us that close seriously.
We are both watching it now, and I have to say with thoughts of pirates on my mind, I was keeping a close watch on the ship and the radar, if I saw them lower a smaller vessel I was going into combat mode real quick.
It gets to 1nm and The Captain radios them, just to make sure they have seen us, we get a cheery reply and yes they know we are there and change their course by only 2°, they passed right in front of us by 0.16nm, man was it huge and close.
But all was well my heart beat slowed down and The Captain goes back to the bilge and I go back to watching a TV series, crisis over.
Oh and the generator is working great again, well done Cap.
Well tomorrow is another day.
Diary Photos
3rd Feb 2016 Image
No Description
---
3rd Feb 2016 Image
No Description
---
3rd Feb 2016 Image
No Description
---
3rd Feb 2016 Image
No Description
---
3rd Feb 2016 Image
No Description
---
3rd Feb 2016 Image
No Description
---
3rd Feb 2016 Image
No Description
---
3rd Feb 2016 Image
No Description
---