Sailng on Windwanderer.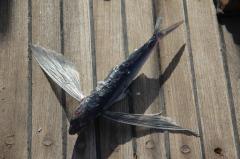 4th Feb 2016
Day 7 Passage to Trinidad 4th February 2016
Day 7 passage to Trinidad 4th February 2016
10pm
Position 11°57'S. 013°55'W
Winds 11kts and are speed is 3.7kts, this is the fastest we have been going all day, we did a check on the chart plotter and we are averaging 80nm a day.
If we keep this up its going to take us about 6 1/2 weeks to get there, The Captain is mumbling about getting the Rabbit sail out tomorrow, oh joy, at least it will be interesting to say the least.
We have had a few weird things happening today, at the moment it appears we have a creature of some kind camped out under our boat.
It's been under us for at least the last few hours, the depth sounder has been reading something large under us going from about 24mtrs to up to two meters.
In has been swimming up and down its kinda freaking me out some.
Actually it's just left us, as I'm writing this, the depth has just stopped at 4.2mts which means it's just swarm out the side of us.
It may of just been licking its wounds, as just before this started happening I caught a fish on my rod.
I decided today to put out my big Fishing rod, I have had a hand line out for a few days now but yesterday afternoon I noticed a Mahi Mahi behind us in the water, so decided it was the rods turn to see if maybe I could catch it.
The reel started singing and by the time I got out there I had lost it, I'm not sure what it was and thought I may have lost my lure but all was still in place, so it's back out there again, I'm just not sure I want to catch what's been under us.
The other weird thing was that I had just woken up from a nana nap, and noticed the water was a funny green colour, than I looked over and saw schools of flying fish.
Now we see them all the time, they take off out of the water fly for about 5 meters than drop back in the water.
Well these guys were the elite squadron. Serious they must of been top of their class.
I watched them three times take off fly for about three meters than turned around and fly back about three meters than drop into the water.
Over and over they did it, I called out to The Captain and he came up to see them do it once more, this is impossible as they just can't change directions, it's not like they actually flap their wings or anything and they just really glide along the top of the water.
But serious these guys were turning I have never seen anything like it.
The Captain had his own theories but he only seen them do it once, all very strange.
Well tomorrow is another day.
Diary Photos
4th Feb 2016 Image
No Description
---