Sailng on Windwanderer.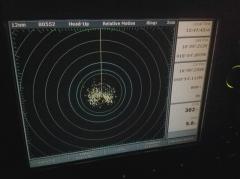 7th Feb 2016
Day 10 Passage to Trinidad Sunday 7th February 2016
Day 10 Passage to Trinidad Sunday 7th February 2016
11.45pm
Position 10°40'S. 018°32'W
Speed 6.5kts winds 19kts
All I can say is, it sure is lively tonight, we have had big winds and big seas, it been really rough out here.
But if there is a good thing about it we have a following sea.
See how nautical I'm getting, Well not really, I only know it's a following sea because The Captain just told me it was....haha
No I kinda can tell that it is, it's basically means the waves are travelling the same as you are, so instead of them crashing beside or on top of you, they kinda hit from the back, you get lifted up and dumped back down again, but it's a much smoother ride.
I would say the waves are between 3-4 meters high and it's just not nice at all.
Today we watched a doco, called the Blue planet, it's crazy the things that are actually in the ocean. I have decided I'm never swimming around islands anymore as there can be hundreds and hundreds of sharks.
I'm not swimming if I see sardines, as these bring sharks around as well.
And I'm never swimming in the Arctic as we watched how pilchards spawn and their sperm turns the water milky for hundreds of miles, just gross.
But we did learn a lot about the Blue whale, these guys are amazing and are the biggest animal in the whole world to date even bigger than dinosaurs.
They grow up to twice the length of our boat, their arteries are so big you could swim in them, there brains are the size of a car and get this, their tongues weigh the same as an elephant, how crazy is that.
It sure is an amazing world we live in.
Oh and are friend was back again this afternoon, just chillin under the boat for a few hours again.
Well tomorrow is another day.
Diary Photos
7th Feb 2016 What waves look like on the radar.
No Description
---