Sailng on Windwanderer.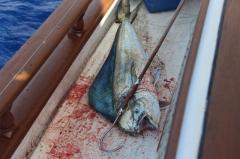 8th Feb 2016
Day 11 Passage to Trinidad Monday 8th February 2016
Day 11 Passage to Trinidad Monday 8th February 2016.
10.30pm
Position 10°00'S. 020°00'W
Speed 4.5kts winds 15kts gusting 18kts
Yeap it's still a bit wild although it did settle done a bit this afternoon, but now the waves are big again.
I did not sleep at all last night as its was just way too rough,I did managed a few hours this morning so that's not too bad, but I'm feeling the affects now, and I may have to wake The Captain up early tonight.
And wait for it, I caught my first fish for the voyage today. A Mahi Mahi a whopping 1060cm not my biggest but he was a good size.
I have only been half hearted with my fishing, even though I have had the hand line out all the time, but my rod not so much.
The Captain thought it was a good idea not to have it out at nighttime, of coarse I thought it was a good idea cause I wanted to catch an early morning fish.
But after getting one online the other night, and I had to go out there in the dark to reel it in I agreed with him that it's just not worth it, and besides the fish got away anyway.
So this afternoon I decided I would put the rod out for a few hours, I climb out of the cockpit go to walk around the back and notice my hand line is stretching out. I looked out behind the boat and sure enough there he was in all his glory.
It sure was hard work pulling in that hand line and it felt like hours to get it up to the side of the boat, I left him in the water at the side of the boat for awhile, than once we were happy that he was almost dead, The Capatin gets the gaff and between the two of us we got him up on deck, both surprised at how big he actually was.
He did not let the team down one bit, they still are mental fish, serious the moment they hit the deck they go berserk, we had a bit of a job keeping him in place and not going overboard, but eventually his colour started to fade, to silver and then he was still, this still amazes us how they lose all their colour when they are dying and when they die the colour all comes back again.
It took a bit to filet him but we will dine well for a fair few meals.
I was a bit worried that I may have caught our little friend under the boat, but he was back again late this afternoon so that was good or not, it still freaks me out a bit.
Well tomorrow is another day.
Diary Photos
8th Feb 2016 Image
No Description
---
8th Feb 2016 Image
No Description
---