Sailng on Windwanderer.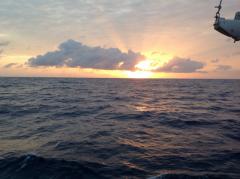 9th Feb 2016
Day 12 Passage to Trinidad Tuesday 9th February 2016
Day 12 Passage to Trinidad Tuesday 9th February 2016
10.50pm
Position 09°13'S. 021°33'W
Speed 4.6kts wind 13kts
Well at the moment we have a ship,yay yay.
Something different to look at if its only on the radar, it's about 12nm away and the closest it will be to us is 9.3nm I'm hoping I might at least get a glimpse of their lights if nothing else.
It's flagged Panama but am not sure its destination and it's doing 17.6 kts.
Other than that not much has happened to day I never got any sleep again last night well maybe a few broken hours, but it's way not enough.
I stayed up and let The Captain have another sleep, but by 11am I was beside myself, I was sick and actually threw up and I'm sure it's was just lack of sleep.
Although it has still been a bit rough out here and we have had a few squalls but nothing serious just a bit of wind and some rain.
I layed down once The Captain got up and that was the end of me.
I woke up again at 6pm, man did I need that sleep.
But am still feeling really off, it's a bit like a hangover and Jet lag all mixed in together.
Ok the vessels name has just come up on the AIS it's called Vecchio Bridge it's a cargo ship 293mts long 32mts wide man it's a big mumma and its heading for Singapore and will get there on 29th February at 11.pm.
Man this AIS system is great it tells you everything, and I just saw its lights. It feels good to know we are not the only ones out here.
Well tomorrow is another day.
Diary Photos
9th Feb 2016 Image
No Description
---