Sailng on Windwanderer.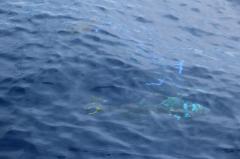 10th Feb 2016
Day 13 Passage to Trinidad Wednesday 10th Febuary 2016
Day 13 Passage to Trinidad Wednesday 10th February 2016
11.30pm
Position 08°53'S. 023°11'W
Speed 4.3kts winds 11.6kts
Well it's been a slow day, I have been out of sorts all day and very restless.
I actually should of been sleeping as its been three days and only about six hours sleep in total. But I just can't sleep.
We have had not much wind and have had a few more squalls, we get a bit of rain out of them and not really any big winds thank god.
Our progress is slow and tomorrow will be two weeks we have been out here and we are only a third of the way, it sure is going to be a long trip.
Oh and our little friend the bottom dweller now has a name he is officially named The Kraken, this came from my girl Bek who joked in an email to us that it may just be The Kraken.
I had no idea what she was on about until I asked The Captain, apparently it's a mythological creature which I think may be Swedish, (where is google when you need it.)
Although maybe it's best that I don't see what it looks like, as it still kinda freaks me out some.
And yes he has visited us twice today he has to be big and a fast swimmer as he will go from 3 meters under us and in a few seconds he is at 30 meters, he does this all the time, he just stays under us, going up and down for hours.
Well tomorrow is another day.
Diary Photos
10th Feb 2016 Karken? Maybe Bek.
No Description
---