Sailng on Windwanderer.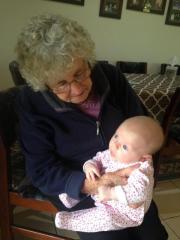 11th Feb 2016
Day 14 Passage to Trinidad Thursday 11th February 2016
Day 14 passage to Trinidad Thursday 11th February 2016
11.45pm
Position 08°27'S. 024°33W
Speed a whopping 2.8kts wind 8.5kts
First off I want to wish my mum a very Happy Birthday, I so wish we could of been there with you to celebrate, but I did hear a little rumour that you had a lovely day and got to enjoy my little Granddaughter for a few hours.
Well we sure are going slow, but at least it's peaceful actually I don't think we have even reached 4kts all day.
Earlier this morning things settled the wind the seas and the boat.
I'm was sitting here feeling so relaxed and at peace, it really was just nice sailing, that was until The Captain woke up.
He decided that it was way too peaceful and wanted to change the sails, kinda go wing on wing, basically wing on wing is you have one sail out one side and the other out the other side.
Well I was not happy I tell you, I decided to do my daily flying fish walk around deck, before The Captain changed our sails.
As I was walking around I found a piece of the rigging on deck, this was like a little plug that helps keeps the roller furling system in place.
The Captain rushes out to see, luckily it was an easy fix, he took to it with a screw driver and hammer and in no time at all, all was well again.
Until he looked up and a rope from the Yankee sail had almost chaffed through, this was not going to be an easy fix.
After discussing several options we decided to make plan B, plan A, and The Captain goes up the rat lines.
Before we did this we had to fed all the ropes onto the other side of the boat to keep the sail on that side.
Thank god the boat was not swaying too much and yes he did have his harness on, and hanging on tight, he managed to swing out a bit grab the rope, he did a temporary fix by tying a couple of knots to hold it in place.
The whole time this was happening I had the camera on standby just in case there was a few action shots to be taking. Like The Captain swinging like a monkey or losing balance and hanging up side down, you know that type of thing...haha
But there was actually not much drama at all, other Than The Captain going a bit pale as he hates heights, the job was completed really quick and it may not look pretty but it will do the job until we get to Trinidad.
And once more we are amazed at our somehow we must have a guardian angel watching over us.
Time and time again something small breaks, but leads to noticing something that could turn really bad really quick.
Well tomorrow is another day.
Diary Photos
11th Feb 2016 Image
No Description
---
11th Feb 2016 Image
No Description
---
11th Feb 2016 Image
No Description
---
11th Feb 2016 Image
No Description
---
11th Feb 2016 Image
No Description
---
11th Feb 2016 Image
No Description
---
11th Feb 2016 Image
No Description
---