Sailng on Windwanderer.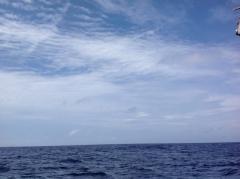 12th Feb 2016
Day 15 Passage to Trinidad 12th Febuary 2016
Day 15 Passage to Trinidad Friday 12th February 2015
11.35pm
Position 07°50'S. 025°29'W
Speed 2.7 kts wind 7kts
Well we have not done very well at all today, speed wise that is, this is turning into a very long passage.
We have just had very little wind, but at least the seas are calm, we came about ( that's put the sails on the other side) in the early hours of this morning.
We had to do something as we were heading towards a few islands off the coast of Brazil, although we are still well over 400nm away, but having no engine we sure don't want to cut it fine, so we are doing everything we can to keep a safe distance from them.
The only problem is now we are heading for Greenland, serious if we keep this coarse that's were we would end up, well it may takes us many months to get there, though.
There is talk in the ranks about a Rabbit sail going up, I'm so hoping the winds pick up before than.
And we have had our daily afternoon visit from The Kraken he just did is normal thing stays around under the boat for a few hours, diving up and down than disappears again.
Oh and I had a little fright last night when I saw something white fly past the cockpit.
Turns out it was a bird, it came in beside us flew around outside for awhile than had a little look inside than left again.
Well tomorrow is another day.
Diary Photos
12th Feb 2016 Image
No Description
---