Sailng on Windwanderer.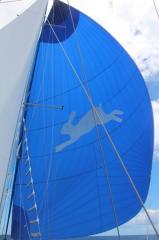 13th Feb 2016
Day 16 Oassage to Trinidad Saturday 13th February 2016
Day 16 Passage to Trinidad Saturday 13th February 2016
10.45pm
Position 06°52'S. 026°12'W
Speed 3kts wind 9.2kts
Well today we did it, we got up the rabbit sail.
Yeap we just had no wind at all and were doing something like 1.5kts with a wind speed of about 6kts.
Although I did try and talk The Captain out of it he could not be persuaded.
So after what felt like hours with us both out on deck sweating away and I do mean sweating it's really getting hot out here now.
We finally managed to get the damn thing up, it sure takes some work we have to change ropes get the thing all connected to different rope pull in the Yankee sail, and winch this thing right to the top of the main mast.
All the time trying to keep it from tangling up and getting caught in anything sharp, and also out of the water.
It still shocks us every time at just how big this sail is, although it's very lightweight it sure is something to see, when it's out in all its glory.
It's such a shame it's still got that ugly arse rabbit on it. We keep hoping it might just disappear but nope it's still there staring us in the face.
We came back in the cockpit both almost ready for a sleep, sweating away and I look at the speed and we have gained a total of half a knot, serious all that effort for a lousy half a knot.
So The Captain alters our coarse some and goes out and moves the main sail over a bit and than things improved heaps.
We ended up doing around 41/2 knots which was great but the only problem it changed our movement in the water to more of a jerking action, which resulted with me feeling very seasick, man I hate that sail.
Well tomorrow is another day.
Diary Photos
13th Feb 2016 Image
No Description
---
13th Feb 2016 Image
No Description
---