Sailng on Windwanderer.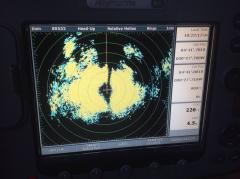 16th Feb 2016
Day 18-19 Passage to Trinidad Monday 15th and Tuesday 16th February 2016
Day 18 and day 19 passage to Trinidad Monday 15th and Tuesday 16th February 2016
2.55pm
Position 04°55'S. 029°25'W
Well I'm feeling shattered, this is the first time it's been calm enough to write, At 5.30pm on Monday we got our first serious storm in over a year.
All hell broke loose, we watched the clouds build up on the radar, then the rain started and the wind came roaring through.
We were pushed so far over on our side it was really horrible , we battled this storm for over an hour, The Captain trying his best to keep us upright.
It finally eased off a bit, but we were not going to get off lightly, the storms just came one after the other, although not as bad as the first one.
After things seem to settle some, it was around 10pm The Captain decided to lay down, I was so anxious about this, but at least he was right across from me.
Within half and hour I watched another big cloud build up, and when the wind started, I tried to wake The Captain, man was it a battle just to wake him.
He finally jumps up and we got slammed, this one was really really ugly, I thought the other one was bad this was way worse, we were pushed so far over on our side that the side rails were buried in the water, we had waves crashing everywhere, and they were huge, I have no idea of the wind speed as I just had my eyes closed hanging on and crying, and to add to the mix we had lighting and thunder.
The Captain tried so hard to keep us upright, but the main problem was we had too much sail out, the main sail was fully out, (We have a problem with it at the moment and can't furl it in,) add to that a massive wind change in the opposite direction and it was just total chaos.
Eventually it settled and I settled enough for The Captain to lay down again by this time it was midnight, I let The Captain sleep and battled through the night.
I fought a few small squalls and big winds and massive seas, till around 5am, when I could just not take anymore, The Captain took over and I had some sleep.
Today we are still not being spared, I woke up to ugly seas at least 5 meter waves, and storm clouds still all around, we have been hit constantly with these storms and rain like you would not believe.
The boat looks like a train wreak, and everything is soaking wet.
We had a very close encounter with a cargo vessel, it was so misty that you could
hardly see anything at all.
I had actually just layed down for a sleep, when I heard the AIS alarm go off through the head phones.
We use ear buds when we watch movies so we don't wake the other up and usually just leave them plugged into the computer, big mistake huge, when the radar screen is full of clouds.
The AIS has not been working real good, so to be on the safe side I decided to turn it off and restart it, another big mistake.
Now we are guessing the cargo ship is around 2 nm heading straight for us, the AIS has gone into silent mode ( which means they can not see us but we can see them).
The Captain grabs the radio and calls them and they confirm they can not see us on their AIS but have just picked us up on their radar and will change coarse.
We watched and waited and finally 1/2 nm away they finally appeared through the fog, it was like watching a ghost ship going past.
We actually have had 5 ships go past these last few days but this was the only one close enough to see.
Eventually I managed to get the AIS back up and working and we will make sure we unplug the ear buds.
And we have two very drained cruisers feeling like that little cottage in the country is a really really good idea.
Well tomorrow is another day.
Diary Photos
16th Feb 2016 Image
A storm on the radar
---
16th Feb 2016 Image
No Description
---
16th Feb 2016 Image
No Description
---
16th Feb 2016 Image
No Description
---