Sailng on Windwanderer.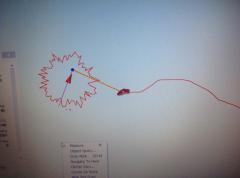 17th Feb 2016
Day 20 Passage to Trinidad Wednesday 17th February 2016
Day 20 Passage to Trinidad Wednesday 17th February 2016
5.30am
Position 04°39'S. 030°10'W
Speed 1.2 kts Wind 3kts.
I can't believe it, after the last two days we have had I have just woke up to dead calm,
No wind no waves.
It was all good for a total of two hours than the clouds built back up, man we copped it again, but at least this time the winds were not quite as strong, but rain omg have we had rain, I swear there is more water inside the boat than out.
The poor Captain battled all night last night with all the storms and a good chunk of today as well, and is really starting to look strained.
10.27pm
Position 04°38'S. 031°02'W
Well the storms have sure gone and we are becalmed.
Our speed is 0.7kts and the wind is around 4kts, we are not even actually moving forward at all and are actually drifting ever so slowly sideways.
It's actually kinda nice after the last 48hours and it would be so peaceful if the damn sails would stop flapping and Aut ( the autopilot ) would stop moaning.
We have had two more ships today, well one was a yacht that The Captain saw in the early hours of this morning and the other was a big oil tanker, but did not come up on the AIS at all even though it was only 6nm away which is a bit of a worry.
We also saw a huge pod of dolphins today, The Captain was asleep when I noticed about 20 birds going crazy, this often happens when there is a whale around, so I was keeping a keen eye on the ocean.
All of a sudden their was hundreds of dolphins swimming straight for us, coming up our port side, I quickly woke The Captain, and we both watched them darting everywhere for ages, they were obviously chasing fish.
It sure was a sight to see.

Well tomorrow is another day.
Diary Photos
17th Feb 2016 When the AIS does not know what direction we are going.
No Description
---
17th Feb 2016 Image
No Description
---
17th Feb 2016 Image
No Description
---
17th Feb 2016 Image
No Description
---
17th Feb 2016 Image
No Description
---