Sailng on Windwanderer.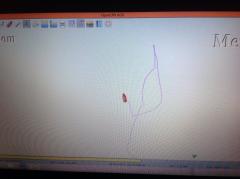 19th Feb 2016
Day 22 Passage to Trinidad Friday 18th February 2016
Day 22 Passage to Trinidad Friday 19th February 2016
It's actually 9am on Saturday 20th feb, our position is 03°92'S 032°50'W.
First off I want to wish my Dad a very Happy Birthday, I hope you had a great day and it was much better than the day we had, I so wish we were there with you today, but we are in our hearts.
Why I'm writing this now is because we have had the worst storm ever, the ocean has finally won, we are broken.
This is going to be our last ocean crossing and once we get to the Caribbean we are putting the boat on the market and going home.
We will sail the Caribbean until the boat sells but we are done with oceans.
About 9.30pm the storm hit, I watched this massive cloud build up on the radar and when it got to 2nm from us I woke The Captain.
It hit with gale force winds, I have never ever been more terrified in my whole life, I sat and held on, I prayed, I said my goodbyes to my kids and my Ava girl and family I really thought we would not make it out the other side.
Our biggest problem was we had too much sail out, as you know we have problems with the main sail and can't furl it, well not only that we had the staysail out as well.
So that's 4 sails out no hope in hell of bringing them in even if we wanted to,it was just way too dangerous.
The wind hit like a freight train and bang we were on our side, we were both on the high side of the boat and almost vertical.
The Captain tried several times to steady us but it was just way too dangerous, if we lost our holding grips there was a big risk of getting flown out of the cockpit and into the water.
Everything in the cockpit went flying, locker doors blew off and emptied all the contents on the floor in every cabin, water was pouring in everywhere, it was just total chaos.
All I could see was the side of our boat in the water, with waves crashing all around, I really truly believed we would go right over, The Captain was feeling the same. we have been knocked down like this a few times before but never for such a long time.
We were just buried in the water, I really have no idea for how long, but I know the storm lasted over two hours.
When it eventually settled some I went to let go of my handholds and my arms were locked, serious I could not move them, I was shivering like crazy wet, cold and I guess in a lot of shock.
Because we had gone off in a completely different direction we needed to come about, ( put the sails on the other side ) the only problem with this is that The Captain had to go out on deck to undo the preventers on the sails, (the preventers are ropes that hold the sails on one side so they don't slam back and forth.).
With massive seas and still quite windy, he harnessed up and went out and braved it, I was very anxious about this I tell you.
Three times he had to do this, one to unlock them, one to lock them to the other side and there were more clouds building up so out again to take down the staysail as well, we just did not want a repeat of what we went through, so although it was risky going out it was worth it in the end.
Tomorrow when things settle we will see what we can do about the main sail.
The Captain wanted me to sleep, so I picked my way through the debris and could not get to either head, ( toilet ) as there was just too much stuff on the floor, I eventually made a path through and was just horrified at the mess, I don't think I'll ever get it back in order.
I did manage a bit of sleep and The Captain battled a lot more storms and rain but these guys where nowhere near as bad as the earlier one.
Damage list to follow.....

Well tomorrow is another day.
Diary Photos
19th Feb 2016 Our track on the AIS when we were fighting the storm
No Description
---