Sailng on Windwanderer.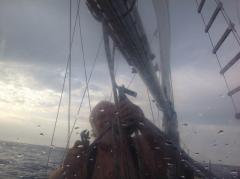 22nd Feb 2016
Day 25 Passage to Trinidad Monday 22nd February 2016
Day 25 Passage to Trinidad Monday 22nd February 2016
11.45pm
Position 01°36'S. 034°43'W
Well it seemed it was not just the preventer that had snapped we actually broke one side off a bracket on the main boom.
So another day of repairs, The Captain had to plunder the staysail for parts to fix the main, but we had already decided to not use the staysail anymore anyway, as we got so scared with all the sails being up in that storm, that we are being extremely cautious now.
The rest of the day went really well we managed about 78nm and had good winds and speed for the most part of it.
Around 5.30pm we watched some very big clouds building up once again, I can not even describe how anxious I was feeling over this, man was I scared.
As they got closer we got the Yankee sail ( the front sail ) in and sat and waited.
And it hit full force oh man it was another shocker with rain like you would not believe, but we have discovered a new storm tactic that the boat seems to like.
By bringing in the Yankee it takes all the pressure of the front of the boat and we don't get that shocking heel, and we kinda heave too and the boat rides out the storm quite well, even if it takes us completely off coarse and we actually were heading back to St Helena.
But it still was unpleasant and everything is wet again and it went on for hours on end, but it did settle The Captain managed to get some sleep and I let him sleep till around 5am.
Oh and we have our friend back again under the boat, with all the storms around he kinda gave up on us, but now he is back visiting once again.
Well tomorrow is another day.
Diary Photos
22nd Feb 2016 Image
No Description
---
22nd Feb 2016 Image
No Description
---
22nd Feb 2016 Image
No Description
---
22nd Feb 2016 Image
No Description
---
22nd Feb 2016 Image
No Description
---