Sailng on Windwanderer.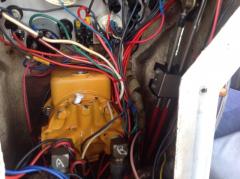 23rd Feb 2016
Day 26 Passage to Trinidad Tuesday 23rd February 2016
Day 26 Passage to Trinidad Tuesday 23rd February 2016
9.25pm
Position 01°10'S 034°48'W
Speed a whopping 0.2 kts wind 5.4kts, Yeap we have reached the doldrums.
We knew we would hit this area around the equator but man we are actually not even moving, just drifting and the sails are just flapping back and forth, back and forth, it's driving me nuts.
Man have we had an eventful day today, The Captain woke me around 10.30am, apparently I was so sound asleep that he thought I was dead, he said he tried and tried to wake me and I just would not wake up, all I know is I woke up with him shouting at me and a very concerned look on his face.
I'm not sure if it was concern for me, or that we had lost steerage maybe both, the rudder was not turning at all.
The cockpit was in shambles with him pulling the steering column apart and bits and pieces of tools and such everywhere.
Now this was serious, I looked over at the chart plotter and the radar screen is just full of clouds, just great we finally get the storm tactics worked out now we can't even keep the boat in the right direction.
To top it all off it was raining, everything is wet or damp and it felt like a sauna in here, as we need to have everything closed up to try and keep as much rain as possible out.
The Captain thinks we have ran out of fluid in the autopilot and needed me to hold the funnel so he could pour it in.
We fill it up and test it by turning the wheel several times in each direction to make sure there is no air in the system.
Normally this goes smoothly but we have big seas and are just roiling from side to side, so there is oil going all over the place.
We finally get it done and the rudder is still not working. There are two screws at the front of the steering thingy and The Captain thinks they are bleeders, so he unscrews one and we put a bit more oil in until it's completely full, but now he can't get the screw back in, it has a spring inside and as hard as he tried it would not grip.
After many attempts and using almost every screwdriver we have on board which is now up here in the cockpit with us adding to the chaos.
He finally gets it to grip for a second than it shoots out of the hole like a rocket and down into the unknown, just great.
Now the bottom of the steering column is full of wire and hoses and narrows and eventually goes down to the bilge.
We grab a torch and search inside as best we can for it hoping it may have just dropped to a little ledge not too far down, I had my head right in there searching something like a hundred times and now my head is covered in the oil and we are both sweeting like crazy as well.
So plan B was too find another screw that may fit, the screw that was there was a special type but we though if we could just seal it off it would do for now.
No such luck, we had every different screw we could find and a timber plug, and the only thing that worked was a plastic type screw that The Captain modified to fit with a bit of plumbers tape to complete the seal.
The cockpit was looking like a mechanics workshop by now.
So finally we top it up again with more oil, spilling it even more and the wheel was free turning on one side, this means the seal was not complete.
Somehow we needed to form an airtight seal, so out come a heap of different putty's but they all say that the area needs to be oil free, yeah as if that's going to happen.
Plan C The Captain goes and starts the bilge pumps to try and empty the water and such out, so maybe we have a slim chance of finding the original screw.
We both tried looking in there but there was still a little water left. So we were trying to think of a way of getting that out, than The Captain remembered that at the back of a locker there is a little door that maybe we could have a look in, it's kinda at the side of the steering Column.
He was a little against this as the chances were slim, but the thought of trying to get that smelly water out of the bottom of the bilge was even worse, and we were at our wits end.
To get to this you have to empty the locker, which holds all the nuts bolts and screws that we just packed back away 5 mins before, and dismantle all the shelves.
We finally get it all out and The Captains holds up the little door while I stick my head in once again with a torch, I was able to see all the wires and hoses going down and low and behold I could see the screw.
The Captain races and grabs a towel and I plug up the bottom so it won't drop any further and try and reach my hand up there to get it.
This was kinda critical if I dropped it I don't know what would happen, I just about have it and it moves, and I lost it. But it was not on the towel, so I wiggled some wires with very shaking hands and it dropped on the towel, I had it, man I think we both cried with relief.
After a struggle we finally got it back in its home, fill the thing with oil again, a lot had leaked out, than go to put the plug in the top and it snaps in half, OMG we just about lost it right than and there.
We could not get the rest of the plug out so we just got a wooden plug jammed it in there tested it to make sure it would not leak, and it will have to do for now.
So 4 hours later and the steering is still the same, that was not the problem after all.
With a lot of pirate language going down and we were stressing pretty bad you need to understand that with out the rudder working we have nothing we can not steer at all. The Captain goes down to our cabin, as under the mattress is the steering mechanism for the rudder and the auto pilot, he lifts this up and the rudder is swinging freely.
It goes through all kinds of brackets and pulleys and such these had all come undone and there was no bolts left at all.
Another very scary moment we can only guess that when we were heeled over so far in that big storm that the force on the rudder must of been extreme and most likely broke a few bolts and than the others finally snapped off as well a few days later.
So while The Captain had the hard task of squaring everything up and getting new bolts put back in place, with a rolling sea and a rudder having a mind of it's own, he did well it was not an easy job at all, with all the rolling seas, extreme heat, laying on his belly, head down and adding to the stress of not even knowing if he could fix it at all I had the job of cleaning up the cockpit and getting it back in some kind of order.
The Captain comes out and I take one look at him and have to laugh, his face was so dirty and he was just dripping wet with sweat, but the job was complete, we came back up into the cockpit turn the auto pilot on and it works perfect after 6 1/2 hours, of hard work.
We get ourselves back on track only to have no wind at all and are just bobbing around here going nowhere.
Well tomorrow is another day.
Diary Photos
23rd Feb 2016 Image
No Description
---
23rd Feb 2016 Image
No Description
---
23rd Feb 2016 Image
No Description
---