Sailng on Windwanderer.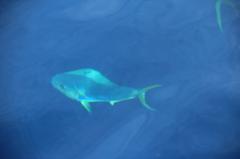 24th Feb 2016
Day 27 Passage to Trinidad Wednesday 24th February 2016
Day 27 Passage to Trinidad Wednesday 24th February 2016
11 pm
Position 00°53'S. 035°31'W
Our speed is 3.4kts and the wind is a steady 10kts.
This is great and the fasted we have gone all day, as we are almost at the equator we really are still getting the doldrums.
A good chunk of the day we just drifted, several times I looked at the chart plotter and we were not even moving at all, I think our total distance for the day was 24nm.
But being so calm it gave me a chance to catch up on stuff and I have been busy all day.
I did a massive clothes wash and man did we need it, especially The Captain he was coming out in shorts and shirts that I have not seen in a very long time.
I than cooked some bread this time rye bread which turned out quite good.
And cooked up a big pot of chilli, this was all done in extreme heat and I don't think I have ever sweated so much in my life.
I'm not so sure going to the Caribbean is such a good idea now, we had forgotten how hot it gets but we sure are finding out in a hurry.
The last two days we have had a fishing vessel around us, always staying about 4 nm away, but it gives me a bit of a fright each time I see it as I can't help thinking of pirates.
Also we had a small cargo ship go past and got a little close, I was also thinking pirates.
Than I noticed something floating in the water in front of us, as we got closer I could see it was two oil bottles tied together.
I gave myself a bit of a fright as I thought that the fishing vessel might have dropped these with lines attached, I tried to move us away from them a bit, but doing under half a knot does not help much.
They ended up going right past us I could of almost reached out and grabbed them, but lucky they were just drifting and there was no fishing lines attached.
And talking about fishing lines, I was looking overboard when I spotted two nice size tuna swimming around.
Out went my rod, I so want to catch a tuna, than about ten minutes later there was a school of Mahi Mahi swimming around, there must of been around 10 if not more, I have never seen them in schools before or that matter we have never seen so many fish around the boat out in the ocean.
The Captain is a bit concerned that we have so much growth under the boat that the fish are thinking we are a reef...haha
And tonight we had clear skies and all the stars came out in their glory, The Captain had just layed down when he spotted a satellite, it took a bit for me to see it but once I spotted it we both watched it track along the sky, this is the first time I have actually seen a satellite so I was pretty excited.
Than the cloud cover came over once again. Well at least we got to see the stars for a little while.
Well tomorrow is another day.
Diary Photos
24th Feb 2016 Image
No Description
---
24th Feb 2016 Image
No Description
---
24th Feb 2016 Image
No Description
---
24th Feb 2016 Image
No Description
---