Sailng on Windwanderer.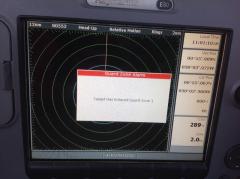 27th Feb 2016
Day 30 Passage to Trinidad Saturday 27th February 2016
Day 30 passage to Trinidad Saturday 27th February 2016
11.45pm
Position 01°07N. 038°37'W
Winds 11.2 kts speed 3.2kts.
At the moment it's very bouncy out here tonight and very overcast, it's been very hot all day as well.
There is a few small clouds on the radar but nothing too serious thank god.
Now Let's talk about radars.
Now it's taken me a long time to work out this bit of equipment on this here vessel.
You have to decipher what is clouds, what is rain, what is waves , what is land and of coarse what is ships.
Now the clouds are easy as they show up as these big yellow puffy things. rain is also easy as it shows with the clouds and it's blue.
Waves are also yellow and blue but usually they are like little dots on the radar.
Land is a no brainer as it just looks like long masses of yellow.
And than you get to ships and boats.
Now the big mumma's are easy as they show up also yellow but with very right angles.
Then you come to the smaller fishing vessels, now these guys are almost impossible to work out.
Nothing stresses you out more is when the radar alarm goes off, and there is nothing on the screen.
(We have a 6nm safety zone around us so anything that crosses that zone trips the radar alarm.)
Well it appears these little fishing vessels don't play by the rules, they don't have AIS and often with the swell you can not see them, and they appear on the radar as just a yellow spot every now and then.
It drives me crazy as the alarm goes off, you turn off the safety zone, stare at the radar screen until your eyes hurt, then jump up and scan the horizon, than you get out the binoculars and scan the horizon again and nothing.
You can bet your bottom dollar that the moment you park your butt back down after setting the safety zone back up again, that the alarm will go off in 5 mins flat again.
It just goes on and on for an hour or so, I eventually find the vessel in the water and than I am happy and will not set up the safety zone until it has passed.
Also in the early hours of my watch last night, I heard a voice again, and not the usual that just sound like someone is calling out to you.
This one sounded like a person talking, well ok I have been watching a series called the walking dead, so maybe that had something to do with it.
Instead of saying " I see dead people" mine is "I hear dead people " well it better not be, but if I do see them I know that they will be zombies and I know I have to hide and be very quiet so they won't see or hear me and I know that under no circumstances do you let them bite you, and if they get way too close you have to hit them in the head by any means possible, the object is to hit that dead brain of theirs.
See if the world gets over run by zombies you can count on me to protect you...haha
Yeap I have been out here way too long.
Well tomorrow is another day.
Diary Photos
27th Feb 2016 Image
No Description
---