Sailng on Windwanderer.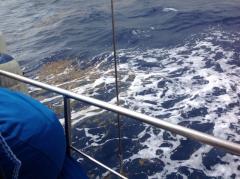 28th Feb 2016
Day 31 Passage to Trinidad Sunday 28th February 2016
Day 31 Passage to Trinidad Sunday 28th February 2016
11.10pm
Position 01°37'N. 039°52'W
Speed 3.6kts winds 12kts
Well 31 days that's the longest we have taken on any crossing, it took us 31 days to cross the Pacific Ocean and we thought that was a long time.
This is way much longer and it's wearing us out.
We have had a shocking day, it's been rough, with bigs seas big winds and overcast all day, although the sun poked it's head out once or twice.
It had a look around and thought better of it and went and hid behind the clouds again.
We have been bounced about all day and night, it really truly wears you out.
I have had enough seriously I feel sick, I'm tired and just over it all.
All I want is to sleep in a real bed that does not rock and sleep for about 3 days straight.
I'm tried of the stress of it all as well, I hate that I scan the sky the whole time in case there is storm clouds around and if I do see one the panic sets in.
The boat smells of damp and of Mildew, everywhere I look there is a mess that needs cleaning and I'm tired.
And it's so dark out here you can not even tell what is sky and what is ocean.
I just want this rocking to stop enough already we need a bit of peace.
Well tomorrow is another day.
Diary Photos
28th Feb 2016 Image
No Description
---
28th Feb 2016 Image
No Description
---