Sailng on Windwanderer.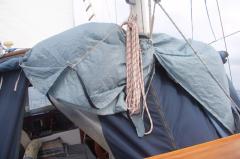 3rd Mar 2016
Day 35 passage to Trinidad Thursday 3rd March 3016
Day 35 Passage to Trinidad Thursday 3rd March 2016
11.50pm
Position 02°56'N. 044°38'W
Well 5 weeks today man we thought that we would almost be there by now, but no we still have around 1100nm to go, this just sucks.
Right at the moment we are in the middle of yet another storm, I am so over these, I just want to get to land.
I have watched this one build up on the radar for over an hour now and have moved us in all different directions to try and avoid it, but with no engine you can only do so much.
I woke The Captain when it got to 3nm away so he could take in the Yankee sail, and help batten down the hatches.
We got all the covers down and zipped up towels placed here and there where the main leaks come in and sat and waited.
It did not take long the wind picked up big time the rain hit, I actually have been watching the rain, coming at us, as you can see it with the nav lights and its actually blowing in horizontal.
But all is calm well kinda everything outside is a bit crazy, but we have heaved to which basically means as I've said before its when the boat kinda stalls in the water and causes a slick around us and we just sit very very slowly drifting until the storms pass.
I can't believe how many times we have tried to do this with this boat with all kinds of different sail angles and low and behold after almost 4 years of sailing her she has kinda figured it out herself for us.
It's still not nice at all, but at least it's not as scary anymore, well kinda anyway.
And my little awning that I tied out side to cover the hatch that was leaking, well it looks like it doing its job, we have hardly any water coming in onto the mattress where we are sleeping.
It's still coming in but our bed is dry almost.
Well tomorrow is another day.
Diary Photos
3rd Mar 2016 Image
No Description
---