Sailng on Windwanderer.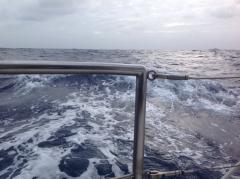 5th Mar 2016
Day 37 passage to Trinidad Saturday 5th March 2016
Day 37 Passage to Trinidad Saturday 5th March 2016
11.50pm
Position 03°25'N. 045°51W
Speed 4.4kts wind 16.7kts
Well we are about to be hit by another storm, this one looks like a shocker the winds has already been high all night, I'm really not looking forward to this one.
We have not only been battling the water getting in everywhere, now mildew is starting to set in.
Our cabin has been smelling the last few days, so today we had a break in the weather for awhile, so everything has come outside to try and dry it out and get rid of the mildew.
I can't believe how wet everything is it's shocking our mattress on our bed was so wet that when I took the sheets off they were just covered in mildew, they are now soaking in bleach so I hope that helps.
I had to throw away two pillows as they were beyond repair.
I managed to get the rest of the cushions and mattress outside except for ours as its just too big, this I propped up and have the hatch above it open a fan blowing onto it and I have opened two of the transom Windows, and yes I'm keeping a close watch on them in case waves come in.
But the waves are hitting us side on and the windows are quite high up so all seems ok.
And the storm hit with massive winds man I just hate this.
Well tomorrow is another day.
Diary Photos
5th Mar 2016 Image
No Description
---
5th Mar 2016 Image
No Description
---
5th Mar 2016 Image
No Description
---