Sailng on Windwanderer.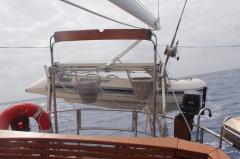 8th Mar 2016
Day 40 Passage to Trinidad Tuesday 8th March 2016
Day 40 Passage to Trinidad Tuesday 8th March 2016
11pm
Position 06°15'N. 051°07'W
Speed 4,4kts wind 13kts
Finally it has settled down some, it's still a tiny bit rolly, but this afternoon things settled right down.
We have also picked up about 2kts of current, we knew we would get this around this area and have been waiting for it for a few days now.
This current runs right through to Trinidad so our speed may just pick up some.
And today we almost lost the dingy, we are always having problems with ropes chaffing and are having to repair them.
About a week ago The Captain noticed that a rope holding the dingy up on the davits was looking a bit warn, so he put extra rope on just in case.
Than yesterday a stainless steel cable broke on the opposite side of the dingy.
The dingy hooks onto the davits by two stainless steel cables, these are than hooked to shackles and ropes, we winch up the ropes and the dingy sits tight under the davits and is than tied off.
Well one of them broke which left the dingy at a very jaunty angle, The Captain managed to get two ropes onto the dingy and all was ok, even if it did look a little drunk.
Today around midday I heard the dingy fall, I woke The Captain up straight away and we both raced out to the back of the boat.
The rope that was chaffing a week ago finally let go and The Dingy was hanging down on its side.
We are so lucky we had the other ropes already in place other wise we would of lost it completely.
The biggest problem was how to get a rope around the outer side and try and winch it up and straighten it out some.
After about three hours The Captain almost hanging off the back of the boat, (he was wearing a harness) a rope jamming on the winch which than had to be cut off, we finally managed to get it kinda back in place, it now has another three ropes around it, it's still at a jaunty angle, but at least its tightly back in place and not going anywhere.
At the moment I'm looking at cloud building up on the radar and hoping like hell it just blows past the side of us, surely we need one night off.
Well it appears we are not going to have a night off, the storm hit with winds reaching 25kts plus.
25kts may not seem like much but try having 50 klms winds slamming into you with nothing to cushion the blow, no mountains or buildings or whatever to soften it a bit, than you get the horizontal rain and the massive waves, it's not pretty.
Lucky it was short lived and we once again got through another one.
Well tomorrow is another day.
Diary Photos
8th Mar 2016 Image
No Description
---
8th Mar 2016 Image
No Description
---
8th Mar 2016 Image
No Description
---
8th Mar 2016 Image
No Description
---
8th Mar 2016 Image
No Description
---