Sailng on Windwanderer.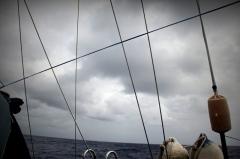 9th Mar 2016
Day 41 Passage to Trinidad Wednesday 9th March 2016
Day 41 Passage to Trinidad Wednesday 9th March 2016
9.45pm
Position 07°05'N. 052°33'W
Speed 4.2kts winds 10kts.
Well we had small squalls on and off through the early hours of this morning, although I knew nothing about these as I slept through them all.
It's just shows you how many we have had, I actually surprise myself that I can sleep through them.
But I woke to a horrible lumpy sea once again, man this is so trying, it wears you out like you would not believe.
But I still managed to bake some bread and wash clothes and The Captain and I hung them out.
Oh and The Captain thinks these are special clothes as they were actually washed in soda water that has gone flat.
Our water level is low even though we are making water daily we are having to be really careful how much we use, and because I had about twenty large bottles of soda water that had all lost their fizz, why we have no idea, but at least I could use it for something.
Than later in the afternoon the seas settled down, right at the moment it's just great, well a bit rolly but man it's peaceful.
We actually had a few dolphins around tonight, although I could not see then I could hear them.
I so love having them around but at night it creeps me out a bit, as you can only assume that they are Dolphins and all you can hear is them surfacing for a breath of air.
Also the last few day we have noticed these kinda Blue bottles/ jellyfish floating past.
They are like a little sail in the water, about 10cm long and bright purple, pinky blue colour.
We have seen only about 8 or so and its just one at a time, I have tried so hard to get a pic, but by the time I manage to see one and it was like one an hour, I'd grab the camera and by the time it focused it had already gone past us.
I managed to nail a few but they are not very good pics, but I will keep trying, as they are quite fascinating to see.
Well tomorrow is another day.
Diary Photos
9th Mar 2016 Image
No Description
---
9th Mar 2016 Image
No Description
---
9th Mar 2016 Image
No Description
---
9th Mar 2016 Image
No Description
---