Harry and Judy's RV Trip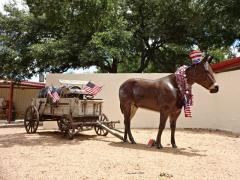 3rd Jun 2016 - Summer 2016
Day 9-June 3, 2016-GREAT NEIGHBORS, Wine, Honky Tonk, Bats and rain
Day 9-June 3, 2016-Great Neighbors!,Wine, Austin, Bats and RAIN!!!
Beautiful day, 82, sunny, gorgeous white clouds. Til The RAIN
We got a phone call in the morning from one of our neighbors in Florida who was in our house with the Sheriff. Seems the security patrol in our neighborhood was checking our doors, one of which was unlocked and he set off the alarm. From there it went to the Alarm Co., then the Sheriff who called our contact. Still not sure what happened, guess we left a door unlocked. The sheriff assured me nothing looked disturbed and the house was clean. Maybe someone came in and cleaned it. We have terrific neighbors who took care of things for us. We feel so secure and confident when we travel because we know we can depend on great friends. THANK YOU!!!
The first thing we needed to do was go to the office to pay and register. Randy, the grounds manager, gave us some info about the area and we talked for quite a while with him.
We drove northwest about 20 miles to Kicking Mule Winery in Liberty Spring, TX. We were greeted by Sassay, the cat, one of the friendliest cats I've ever met. The winery is set in the side of a cliff and we were told it's a great place to be during a tornado. Very reassuring. We ate the lunch we packed on their patio. Sassy was not interested in food, she just wanted loving.
We continued west to Pilot Knob Winery in Bertram, TX on county roads lined with pretty yellow wildflowers, goats, horses and donkeys. At the end of a long dirt road was the winery. The owner was from East Granby, CT. She and her husband (they're both young) have great plans to make this winery bigger and better, even though it is quite nice now. She knew we like dry red wine so she sent us to another winery, Perissos Winery.
Now this winery was really hard to find even though we had Mapquest directions. It was in Burnet, TX. We had to drive on more county roads, through a state park, past a mansion out in the middle of nowhere. We later learned that it was owned by a man who made his fortune in kitty litter. Turned around once, almost gave up, but turned around again and finally found it. Good wine but way too expensive.
We're done with wine so on to Austin for some dinner and night life. Oh no, we're now about 70 miles from Austin. How did we get this far out of the way??? Lots of people told us to go to the Broken Spoke for dinner and dancing so that's where we ended up. It's the oldest and most famous honky tonk joint still in Austin. It's owned by James White, a legend in Austin, who sang while we were eating. They had great BBQ and steak and an old time guitar player who was really good. The ladies room is plastered with George Straight articles, seems the owner's wife (who tends the bar) has a soft spot for him, he sang here in the late 70's and still comes back every now and then. Willie Nelson, Dolly Parton, Bob Wills, Kenny Rogers, Johnny Cash and other music legends have also played here. In the back room there's a dance floor with a band. They have TX dance lessons (given by their daughter) later on in the night. But we have to go see the bats.
The congress street bats are 1-1/2 million free-tailed Mexican bats that live under the Ann W. Richards Bridge during the day and come out at night to feed along Lady Bird Lake. We found a wonderful spot to sit and wait for them at a little park right under the bridge. We got there just in time, about 20 minutes before they were supposed to emerge. AND THEN THE RAIN CAME!!! It didn't just start to drizzle, the sky opened up. Thunder and lightning that was far away 5 minutes ago is now right over us. We have an umbrella (useless) so we ran under the bridge with hundreds of other people. Even the bridge shelter is useless. We heard the bats don't come out in the rain (they must be smarter than us) so just about everybody gives up and runs to the parking lot which is now ankle deep in water. And the highway is getting flooded. We drove back to the campground thoroughly drenched! The storm followed us and continued to rage most of the night, the thunder rattling the RV and the lightning matching that in Florida. We didn't get to downtown Austin and the music scene tonight but might try again another day.
Diary Photos
Diary Movies
---