Harry and Judy's RV Trip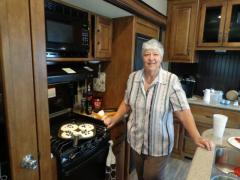 4th Jun 2016 - Summer 2016
Day 10-June 4, 2016-Lazy Day and baseball
Day 10-June 4, 2016-Lazy day and Baseball
Cloudy, sunny, rain, sunny, rain, sunny-One of those days-Got up to 83.
Spent the morning catching up on phone calls, e-mails, etc. Went to Home Depot for an outdoor mat for the RV. We can't find the one we had, must have left it at another campground. It poured on the way back but people are already parking and going into the ballpark, even in the rain. We had dinner and it finally stopped raining so we walked over to the ballpark right across the street.
Dell Diamond is home to the Round Rock Express, Triple A affiliate of the Texas Rangers. Tonight they're playing the Oklahoma City Dodgers. We have great seats, over the home team dugout at third base, four rows up. Great view, beautiful night, nice cool breeze. It's 90's night so tonight their jerseys say "Bayside" Express on the front and all the players are named Slater, a bow to "Saved by the Bell". All the music is 90's, the games are based on 90's games, and all the video clips are from 90's movies and TV shows. The mascot is Spike, a dog, don't know why. Beautiful rainbow appeared and we could see both sides, but not the pot of gold. Got through the first 3 innings with no rain but then the sky opened again so for the next ½ hour we found seats under cover in one of the back rows. Grounds crew quickly got the field dry again but the Express lost 7-0. There was a concert on the field after the game (90's music). We walked home and could still hear the music from our site.
Diary Photos
Diary Movies
---