Harry and Judy's RV Trip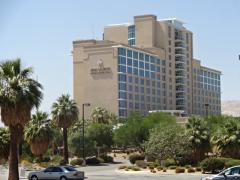 23rd Jun 2016 - Summer 2016
Day 29-June 23, 2016-Groceries, casino, pizza, pool, Village Fest
Day 29-June 23, 2016-Groceries, casino, pizza, pool, Village Fest
Got up to 112 today, another hot one.
Had to do some grocery shopping, we haven't been in a while and are running low on some staples. The local store here is Von's, part of Safeway. It's about a half mile down Palm Canyon Dr. Came back to condo to put groceries away then went to Cathedral City to Aqua Caliente Resort and Casino, the sister casino to the one in Palm Springs. Harry had no luck, but I managed to win a bit. We're still up and we know when to quit. We had gotten a coupon for pizza from the ball game the other night so we went to Upper Crust Pizza to get a pizza which was really good. Came back to the condo, jumped in the pool to cool off. I watched a couple of hummingbirds flitting back and forth from the trees to the fountain to get a drink. Met a couple from Bozeman, Montana who told us about a few things to do there. He is originally from Darien, CT, the next town over from where we used to live. Small world. Thursday night is Village Fest night in Palm Springs. It's held downtown and they close off three blocks of Palm Canyon Dr. for a few hours each Thursday for music, food, crafts and most of the stores stay open. I spun the wheel at the Palm Springs Power (baseball team) booth and won free tickets so I guess we'll be going back there tomorrow night, our last night here. We had fun when we went to the game the other night so it should be fun again. There's a short film festival going on in town now and we heard there are some directors here. One of the shop owners said they didn't expect many people tonight because of the heat (just us tourists) but it was really busy. Not really knowing where it was when we got there we didn't park too close and then we walked from one end to the other, then all the way back again.
Stopped for some ice cream but even that didn't cool us off. Back to the air conditioned condo and a nice cool shower, that did the trick.
Diary Photos
Diary Movies
---