Harry and Judy's RV Trip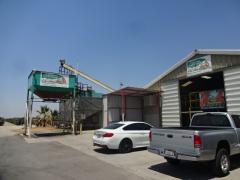 29th Jun 2016 - Summer 2016
Day 35-June 29, 2016-CA Fruit Depot and Buck Owens' Crystal Palace
Day 35-June 29, 2016-CA Fruit Depot and Buck Owens' Crystal Palace
Temp up to 112. Still HOT!
Went a few miles up the road to the California Fruit Depot where their motto is "We're half nuts". They had over 20 varieties of almonds, including Onion Garlic, Coconut Macaroon, Butter Toffee and Orange Honey. The same with pistachios, walnuts, cashews and pecans. And dried fruits, apricots, kiwi, figs, chili pineapple, mango and cantaloupe and more. Chocolate covered fruits and nuts, candies, pickled items (hawg balls and frog balls a specialty), olive oils, vinegars, sauces, jams and jellies. And then fresh fruits and date shakes. They're very proud of their oranges and the groves are just outside the building. And they encouraged us to try everything so this was lunch. Stopped at a Wal-Mart and stocked up again then went to the pool for a while. Took a ride to downtown Bakersfield and looked at some of the artwork and landmarks around town. A 1939 Woolworth's that still has counter service, the famous Bakersfield sign, Guthrie's Alley Cat Sign, a 75 year old neon sign over a bar in an alley that the truck just squeaked through and a shoe repair shop inside a 30' x 20' shoe. Nice murals all over town and even some cool graffiti.
For dinner we went to Buck Owens' Crystal Palace. We heard Bakersfield is the "Nashville of the West Coast" and that this is the place to go. When we first opened the front doors we were greeted by huge bronze statues of Buck Owens and Merle Haggard, George Jones, Johnny Cash, etc. Then go inside and walk the boardwalk around the restaurant with its storefront windows filled with memorabilia from country music stars. More bronze statues, Elvis, George Strait, I think there are 10 in all, all larger than life. The fifty foot bar has a Pontiac convertible behind it on the wall (which I thought was a Cadillac). Buck Owens supposedly won it from Elvis in a poker game. The food was great, Harry had Buck's special chicken fried steak and I had halibut. The entertainment for the night was Carter Winter, an up and coming (or going, he wasn't that great) country singer. All in all a really nice evening.
Diary Photos
Diary Movies
---