Harry and Judy's RV Trip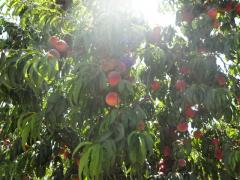 1st Jul 2016 - Summer 2016
Day 37-July 1, 2016-To Delhi, CA
Day 37-July 1, 2016-To Delhi, CA
Only got up to 102 today, must be a cold front.
Drove 188 miles in 4 hours, staying on CA 99 the entire trip.
Beautiful scenery, red, pink and white oleanders in the median of the 2-lane each way highway, vineyards and olive and nut trees in the farms and orchards along with the ever present railroad. We're in the San Joaquin Valley, an agricultural area, peaches, corn, tobacco and dairy farms on both sides of the road. The slogan is "Something you ate today came from Bakersfield". Lots of water conservation signs and posters about meetings relating to irrigation issues, the drought seems to have everybody here concerned. Stopped at Bravo Farms in Traver, CA, a roadside tourist store where they make their own cheese, and sell wine, beer, cheese, nuts, olives, antiques, fruit, gifts, jams, candles, etc., etc., etc. Drove through Selma, "The Raisin Capital of the World", where they grow 90% of the world's raisins. Then north through Fresno to Delhi. On the way to the campground we passed a peach orchard with peaches just begging to be picked so we did. We're staying at the Merced River RV Resort, right on the Merced River, now more like the Merced stream. Nice campground, big pool, large clubhouse with a library, big screen TV, fireplace, pool table and game and meeting room. The clubhouse was up a big hill. Most people drive up there but we didn't unhitch because we're only staying one night so the walk up the hill in 102 degrees was HOT! But we got a few more books that look interesting from the library. We finally have some decent Wi-Fi so I caught up on the blog, then read and relaxed. There's a wonderful breeze in the big trees on the other side of the river, it almost looks like there's something in them moving. Went for a walk after dinner, the campground is full for the 4th of July week-end. Met another woman who, with her husband, has just sold their house and decided to full time RV. We're meeting a lot of people who are doing that.
Diary Photos
---