Harry and Judy's RV Trip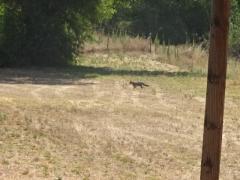 2nd Jul 2016 - Summer 2016
Day 38-July 2, 2016-To Corning, CA
Day 38-July 2, 2016-To Corning, CA
Drove 210 miles in 4 hours.
Got up to 100 in Corning.
We saw a coyote or fox near the river when we pulled out this morning, couldn't see it that well but at first glance I thought, coyote. This is definitely northern California with its big trees and green farms. No more desert! Nice day, cooler, only inched up to 86 until we got around Corning when it went up to 100. They say it's because we had the Delta Breeze south of Sacramento. The ride was pretty, we still have the beautiful red, pink and white oleanders on the side of the road and in the median, until we got to Sacramento, then we started seeing farms and orchards, later learning they were olive orchards, a new type of olive used for olive oil. They get more bang for their buck with this crop than the almonds that used to grow here. Lots of traffic going into Sacramento and lots of police cars on CA 99, then we got on I-5 and the traffic was better and we started to see the mountains in the distant west. We're listening to a book on tape that we listened to before but Harry doesn't remember it. It's a David Baldacci book that he started to read and then realized we have it on tape. I don't remember what happened so I'm OK with listening to it again, it makes the time and miles pass. We stopped at a rest area for lunch then got into Corning about 2PM. We've stayed at this campground before in 2013. It's surprisingly not filled. They're complaining about the heat here, said they've had a heat wave the last two weeks, no kidding. The trees are dry and the leaves are falling. But they said it's supposed to go down to 65 tonight. We read for a while, then went in the pool, which we had all to ourselves. Met one of the managers here who used to live in Eureka and gave us some advice on the best way to get there. Doesn't seem to be an easy way. Came back, read a bit more, we both have good books. It did cool off a bit at night but not a lot.
Diary Photos
---