Harry and Judy's RV Trip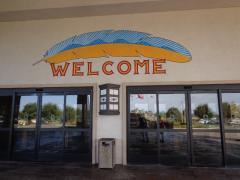 4th Jul 2016 - Summer 2016
Day 40-July 4, 2016-HAPPY 4TH OF JULY, chores, plans & casino
Day 40-July 4, 2016-HAPPY 4TH OF JULY, chores, plans and casino
Again up to about 98 but gorgeous and comfortable.
Did some laundry and a few chores. We decided to stay another night here and not drive the day after a holiday, we've learned the traffic is horrendous, but the office is closed so we'll have to wait 'til tomorrow to register. Looked at maps, campground books, etc. to chart a course for the next few days. Make some reservations. After lunch went to the local Safeway to get a few things then to Rolling Hills Casino 5 miles down the road. Came out about an hour later winners, not big winner, but not losers. Back to campground for dinner with a bottle of 4th of July wine, then sat outside and read. It's so quiet here, even on the 4th of July. No fireworks, it's so dry they don't take a chance.
Diary Photos
4th Jul 2016 Rolling Hills Casino entrance
No Description
---
4th Jul 2016 Happy 4th of July!
No Description
---