Harry and Judy's RV Trip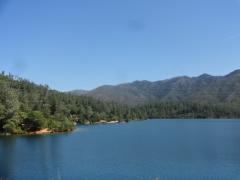 6th Jul 2016 - Summer 2016
Day 42-July 6, 2016-To Eureka, CA, Samoa Cookhouse and cloudy sunset
Day 42-July 6, 2016-To Eureka, CA, Samoa Cookhouse and cloudy sunset
Drove 198 miles in 5-1/2 hours.
Started at 92 in Corning, when we arrived in Eureka at 3:30 it was 60.
We took I-5 up to Redding, CA where we got a quick glimpse of snow covered Mt. Shasta, then turned west on CA-299 for the next 150 miles. There are two ways to get over the mountains from here, route 36, which everybody told us to avoid at all, costs and CA-299. We were warned of the construction on this road so we were ready for long waits where the one lane each way road went down to only one lane both ways. But, although there were multiple lane closes for "Curve Improvement", "Highway Alignment", "Slide Repair", the longest we ever had to wait was 20 minutes. A scenic road with S-shaped curves, steep grades, up and down mountains we drove through Shasta, an old mining town, Whiskeytown, on Trinity Lake with big sailboats, then down the mountain to Weaversville, a nice little summer vacation village on beautiful green Trinity River with hiking, camping, rafting, boating and fishing. We continued to follow the Trinity River to Willow Creek, "The Bigfoot Capital of the World", known for the most Bigfoot sightings but also the town where the most famous Bigfoot photo was taken in 1967, which later turned out to be a hoax. In Willow Creek there is a Bigfoot Motel, Bigfoot Rafting Co., Bigfoot Hair Salon, Bigfoot Burgers among other Bigfoot businesses. We passed dozens of logging trucks going east, even though we've heard they've curtailed logging to preserve the forests. They're probably going to a saw mill we passed on the way. Stopped for lunch at an overlook and started to smell the pine trees. Got into Redwood Acres RV Park about 3:30, stepped outside and wished we had jackets on. Deidra, the campground host, came to our site to register us, maps and info brochures in hand and told us a few more things we need to do while we're here. We should be really busy for the next few days. She also said 60 is a bit warm for them this time of year. We had every intention of staying in for the rest of the day but decided we should be tourists and do what tourists do. So we drove over the Woodley Island Bridge to Samoa and the Samoa Cookhouse, the last lumber camp cookhouse in North America. Built in 1893 they have served breakfast, lunch and dinner continuously since then, exclusively to lumberjacks and millworkers until it was opened to the public in 1964. They serve meals family style on long tables with red and white checked tablecloths, fixed meal, what they have tonight is what you get. Tonight it was chicken and rice soup, salad, green bean salad, fried chicken, bbq ribs, corn, red potatoes, homemade bread and pineapple cake and coffee. All you can eat. Great service and great food. They have a room with memorabilia, equipment and pictures from the early logging days in the late 1800's. They have another building that's a lumber museum. After dinner we drove about five minutes down the road to the Pacific Ocean just in time to climb over the dunes and see a cloudy sunset. The sun only peeked out from the clouds before it set. Back to the RV to set up the heaters. It's down to 50 already.
Diary Photos
Diary Movies
---