Harry and Judy's RV Trip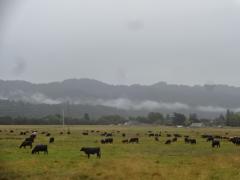 8th Jul 2016 - Summer 2016
Day 44-July 8, 2016-California Redwoods, Oregon Coast
Day 44-July 8, 2016-California Redwoods, Oregon Coast
Drove 139 miles in 5-3/4 hours. Yes, we stopped a lot.
When we got up temp was 57 and it never changed all day. Cloudy, damp, rainy all day.
We continued north on Route 101, the Redwood Highway, now a one lane road, through mist and fog and clouds to Orick, where we stopped at the Redwood National Park Visitor Center. The smell of the ocean is wonderful. Got some info, which changed our minds about what to do, and then stopped at Elk Meadows where there were no elk. But when we got on the Newton Bishop Drury Scenic Highway we saw a herd of five in a meadow, just walking around looking at the tourists looking at them. The Newton B. Drury Highway is a 10-mile highway that goes right through the Redwood Forest. It has some places where you can pull over and get a good look at the giant redwoods that can get up to 380' tall. The mosses and ferns are almost as awe inspiring as the trees themselves. There are trails and viewpoints along the way, the woods very deep. Some of the movie Jurassic Park was filmed here. Both Harry and I think the redwoods are more fascinating than the sequoias. Back on 101 through Klamath, which was our original stopping point for tonight. We stopped at an ocean overview for lunch with magnificent views but it was raining. Klamath is the home of the Yurok tribe and a lot of their history is present in this town. It was early in the day so we decided to continue north, through more forest, up mountains where the fog was so thick we could barely see and then back down steep grades to Crescent City, known for its tsunami history. We finally got some cell phone service and called ahead for reservations at a campground in Gold Beach, OR. We knew we were in Oregon when we saw a billboard that said "Need Weed?" We continued on 101, which is now called "Pacific Coast Scenic Byway", through Brookings where we stopped at another viewpoint of the ocean and the gigantic rocks and waves and then to Gold Beach and Indian Creek RV Park which had a nice, cozy fire in the large greeting room. Nice campground, across the street from the ocean and not far from town.
Diary Photos
Diary Movies
---