Harry and Judy's RV Trip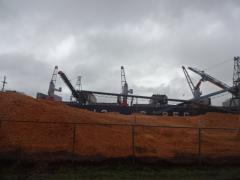 10th Jul 2016 - Summer 2016
Day 46-July 10, 2016-The Oregon coast
Day 46-July 10, 2016-The Oregon Coast
Drove 210 miles in 6 hours.
Started rainy, cloudy 55, got sunny in the afternoon and up to 64.
We drove from Gold Beach, OR to Lincoln City, OR all on Route 101, aka "The Pacific Coast Scenic Byway", "Trans Pacific Highway" and "Oregon Coast Bike Route". Pacific Ocean was on our left all the way to Port Orford, large rocks in the water with white water crashing down on them, simply amazing. The road then turned inland through misty forests, huge trees rough roads, rough rocks, slides and white mist. Some sheep farms, blueberry orchards and cranberry bogs. Larger cities in this area of Oregon, especially when we got to Coos Bay, with piles of wood chips and lumber waiting to be made into wood chips. Passed through over 40 miles of sand dunes (some over 300' tall) in the Oregon Dunes. Drove into Horsfall Recreation Area and watched some ATVs riding over the dunes. Stopped for lunch at a scenic overlook but the fog and mist made it difficult to see anything. Once we got to Reedsport the sun started to come out and the ocean was in view again. The ocean is really rough here, giant rocks, huge waves, beaches but nobody on them. Also saw a few lighthouses and went over a lot of beautiful bridges. And a lot of rivers, lakes and lagoons on the eastern side of the highway. The Oregon coast reminds me a lot of the Maine coast but Oregon seems more raw and rough. Saw what I thought was driftwood on a sand bar near Seal Rock but it was really seals sun bathing. Another large town, Newport, had a lot of people out on a Sunday afternoon. The beaches here had people on them, a few even in the water but only ankle deep. Next town was Depoe Bay, "World's Smallest Harbor". This town is known for whale watching too and looked like a fun place. There was no place to park the big RV, it's getting late and the town was crowded so we kept going north, finally to Lincoln City where we're staying for the next two nights. A nice KOA, and we have enough points with them to get $25 off. KOAs are always nice. There's a mix of tenters, RVers and about 10 cabins. Sat outside and read for a while, but it's a bit chilly. As we're eating dinner and little deer walked right past our campsite and up the hill to the entrance of the park.
Diary Photos
---