Harry and Judy's RV Trip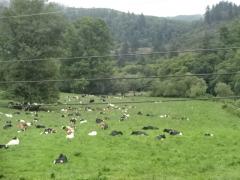 12th Jul 2016 - Summer 2016
Day 48-July 12, 2016-Oregon Cheese Factories and to Washington State
Day 48-July 12, 2016-Oregon Cheese Factories and to Washington State
Drove 172 miles in 6-1/4 hours.
Cloudy, drizzly 65 degrees.
Drove about 40 miles on route 101 north to Tillamook, OR through dairy farms and forests. The road has no shoulders and big drops into ditches and it has a lot of curves and hills so we can't go fast. We stopped at Blue Heron French Cheese Factory where they had samples of their cheeses (they specialize in brie, a lot of different flavors), jams, jellies, wines, dips, sauces and a big gift shop. They have a petting farm and old farm equipment and a cheese museum. We sampled some cheeses but decided to go on to Tillamook Cheese Factory a few miles up the road where they make the cheddars we like. It was really crowded, probably over 50 people in line to sample cheeses and ice cream. They have a restaurant which was packed and also a museum and tour of the factory. We skipped all of the above, went to their store and bought some cheese. Even the checkouts had lines. People who come often were saying they've never seen it this busy. We probably could have gotten the same cheeses in the grocery store quicker and cheaper. But it was an experience. We then drove around Tillamook Bay through Garibaldi, a quaint little town with beautiful flowers in front of homes, especially the deep blue hydrangeas and some yellow and orange flowers that were gorgeous. A lot of lumber trucks going both ways here. In Rockaway Beach, a summer vacation town with lots of cottages and condos we saw the ocean again for a while, then back to forests to the city of Seaside, the largest city we've seen in a long time. We pulled into a Cosco parking lot for lunch then continued north over the Columbia River and into Washington. There's more logging here, as soon as we got into WA we saw forests clear cut, some replanted with smaller trees. On to Raymond on the Willapa River, where route 101 is the Wildlife Heritage Sculpture Corridor with miles and miles of cast iron replicas of local wildlife on both sides of the road and a big lumber mill. A few miles up the road is our campground for the night, Artic RV in Cosmopolis, WA. In the middle of the forest but right off the road we drove to the office which had a sign saying "Ring Bell". A huge bell with a pull rope. Out came Roy and Ann Pearmain, the owners. I had called a few days ago and they saved us a nice site. They gave us some info and told us about a trail that leads to a huge tree and the Artic Smokehouse & Pub next door which has some good food and beer. We didn't have to set up much, we're just staying one night, so it was quick and then we went on the trail. As soon as we entered a cat joined us (later we found out her name is Lilly and she's the owner's cat). She led us the whole way through a narrow path, up and down stone steps, over bridges, she knew just which way to go when we got to a fork in the road. Lots of mosses and ferns here, they get 100" of rain a year. We found the tree, a big Sitka Spruce, about 11' in diameter and then the path got wider and easier. We saw two elk in the tree but they were gone in a flash. We checked out the rec room, laundry room, etc. and then went to the Pub for dinner. Local place, everybody knew everybody. We had dinner (it was Taco Tuesday), and they were good, Harry had a brisket sandwich. I went out on the deck and got to talking to some of the people there. Seems Roy, the campground owner, is a partner in making wine with one of the men on the deck. He told me they make the best "Black & Blue" wine, a mixture from blackberries and blueberries and I should go down to their house and taste it. The locals also gave us some ideas of what to do around here and the Washington peninsula. So we went back down to the house and "rang the bell" again. They invited us in, were having dinner with some neighbors, asked us to join them. They didn't have any Black and Blue wine but "Cascade Wine", a wine made with leftover berries, loganberries, blackberries, marionberries, whatever they had leftover. It was good but a bit sweet for us. We sat there for almost two hours, exchanging stories, watching the hummingbirds outside their window and enjoying each other's company. What a nice night.
Diary Photos
Diary Movies
---