Harry and Judy's RV Trip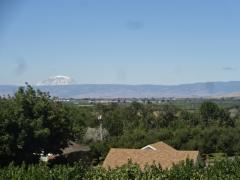 23rd Jul 2016 - Summer 2016
Day 59-July 23, 2016-Prosser, WA More Yakima Valley Wine Trail
Day 59-July 23, 2016-Prosser, WA-More Yakima Valley Wine Trail
Drove 54 miles in 58 minutes.
Up to 87 today, sunny, nice.
Drove the short distance from Yakima to Prosser on I-82 (where we got one last look at Mt. Rainier looming in the distance, its crystal blue ice cap totally visible) past Zillah, the home of the Teapot Dome service station and Toppenish, the headquarters of the Yakama Nation Tribe whose land covers over 1 million acres. Toppenish has over 76 murals on sides of building depicting pioneer life and every June they add another one. We had been to these places before so we drove by and continued to Prosser to Wine Country RV on Merlot Rd. We were also here before but there's so much to do we returned. The campground is right in the middle of the wine country and close to town. There are over 100 wineries represented here, some in the downtown tasting rooms and some in the countryside with gorgeous vineyards which are the ones we like to visit. The views are always so nice and we never get the feeling we're just sitting in a bar. So we started at Vine Hart Winery, where we picked a lot of cherries a few years ago. But the trees were all bare, harvest was over. The wine was just as good, though. From there we went down the road to Pontin Del Roza Winery, which had a beautiful malamute dog named Koda and a bocce court outside. Again, a gorgeous view of the vineyards. And we learned that the "V" shaped crops are hops, which is the big thing here lately. The Yakima Valley produces over 80% of the worlds hops and they've even torn out grapes to plant hops. Budweiser bought a lot of acreage here to plant hops, the demand is great and the profits are high. Continued to Barrel Springs Winery. They had a "Benji" dog named "Benji". Eventually he'll have a wine named after him like his predecessor, Handsome Howard does. The owners told us they will be at our campground for a wine tasting later tonight and told us about another winery, Daven Lore, across the railroad tracks. And up a bit, dusty, gravel road in the middle of golden grass covered hills. Beautiful drive and a great view of Prosser down below. There was a busload of people and it was closing so we didn't spend much time there. Back in town we stopped at Chukar Cherries and sampled just about one of everything. They have cherry popcorn, chocolate covered cherries, nuts, sauces, jellies, truffles, cherry salsa, pie fillings, biscotti, etc., etc., etc. Back to the campground just in time for the wine tasting with cheese, crackers, pretzels and dips. Maybe no dinner tonight.
Diary Photos
Diary Movies
---