Harry and Judy's RV Trip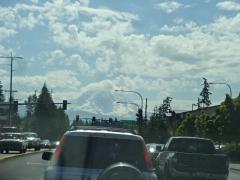 21st Jul 2016 - Summer 2016
Day 57-July 21, 2016-Mt. Rainier & to Yakima, WA
Day 57-July 21, 2016-Mt. Rainier and to Yakima, WA
Drove 161 miles in 4-1/4 hours.
Cool in Olympia, 70 at top of Mt. Rainier, 91 in Yakima
We decided to take the road less traveled to get over the mountains to Yakima. We've taken the two main roads before so we went a bit north to get to route 410 which is closed in the winter. It was rough and bumpy, probably from winter damage. There was still patches of snow on the side of the road in some places and some rock slides still had not been cleared up well. We drove through small towns like Puyallup, Buckley and Enumclaw and Greenwater where we started to follow the White River which is actually white because of pulverized rock from Emmons Glacier on Mt. Rainier. The rock particles fall into the runoff and downstream to the river. Stopped at Skookum Falls viewpoint, pretty but the falls were small. Then we started to climb the mountains in Mt. Rainier National Park to Chinook Pass, 5440', and eventually got breathtaking views of the mountain. The tippy top was cloud covered but we could still see the blue/ice top. What a view!! Mt. Rainier is 14,410' at the summit, nothing else near it comes close so it stands out. Seems we drove around the mountain because we had a lot of different views. Then down into the valley around some nasty switchbacks. Stopped for lunch on the side of the road in the Wenatchee National Forest and the pine smell was wonderful. We're now following the American River, rocky and fast, all the way into the Yakima Valley where we are starting to see orchards and fruit stands. Got to the campground about 3, it's really nice, has its own golf course right next to us. Set up and relaxed for a while. Oh, and put the heater away and turned the air conditioner on. After dinner took a ride into Yakima, just a big city. We'll explore more tomorrow. Sat outside for a while but it's very windy out and getting quite chilly. Supposed to go down to the low 60's tonight. Maybe I should get the heater back out.
Diary Photos
Diary Movies
---