Harry and Judy's RV Trip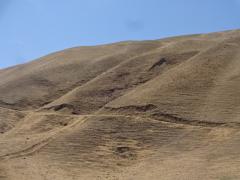 25th Jul 2016 - Summer 2016
Day 61-July 25, 2016-Tri-Cities, WA Wine and Baseball
Day 61-July 25, 2016-Tri-Cities, WA, Wine and Baseball
Drove 31 miles in 35 minutes to a new campground. At this rate we might be home by Christmas.
Hot today, got up to 100.
We wanted to go to a baseball game in Pasco but didn't want to drive 35 miles to get there and then back again so we drove the 35 miles to a closer campground in the tri-cities of Pasco, Kennewick and Richland, only 4 miles from the stadium. This from people who drove over an hour and a half to see the Yankees in NY or Tampa Bay in St. Petersburg. But first we went to a couple of wineries after we set up the RV and had lunch. We didn't see any hops here, just acres and acres of grapes. The days here are warm and the nights are cool and they get an average of 300 days of sunshine. Although they get less than 8" of rain a year there are three major rivers, the Columbia, Yakima and Snake and the runoff provides great irrigation for the crops. This is the Red Mountain District of the Washington AVA (American Viticulture Area), about seven different areas of wine production. It varies depending on climate, soil, irrigation, etc. We had been here before and liked the area and the wine. Some are only open on week-ends but we managed to find enough. The first was Kiona, a winery we had parked our RV at a few years ago. Beautiful views of the Red Mountain and surrounding areas. The next couple were way too expensive so we passed on the tasting. We're becoming very selective with the tasting. If we won't buy it we won't try it. The next was Hamilton Cellars where we were greeted by DJ (short for Dow Jones, don't know why) a poodle type yippie dog. Her job was to watch the front door for customers and yip and yap when she saw some. She was good at her job. But she kept yipping and yapping at me, the owner said she thought if she kept it up long enough I'd give her a treat, but all I had was gum. The last was Terra Blanca, probably the prettiest of them all. It has a monstrous wooden front door that is probably 8" thick. They do a lot of weddings and functions here and the views and gardens are gorgeous. Back to the campground for dinner and then off to the baseball game at Gesa Stadium, less than 10 minutes away. The Tri-City Dust Devils (their mascot Dusty, a dust devil) vs. The Hillsboro Hops from Oregon. There is a huge, funky looking paneled screen next to the box office and we found out later it's to block the sun. And it works, we would have fried if the screen wasn't there. But it also blocked a beautiful sunset. If the Dust Devils had won tonight they go on to the playoffs and there were a lot of fans cheering them on. But it wasn't to be, they lost 3-0.
Diary Photos
Diary Movies
---