Harry and Judy's RV Trip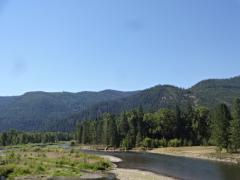 29th Jul 2016 - Summer 2016
Day 65-July 29, 2016-To Livingston, MT
Day 65-July 29, 2016-To Livingston, MT
Drove 240 miles in 4-3/4 hours.
Cooler today, only 87, gets chilly at night mid-50's.
Another jaw-dropping day scenery wise. Still on I-90 but through pine covered mountains, over the Blackfoot River past towns like Phillipsburg where they're having a "Testicle Festival"-don't ask! And Drummond-"World's Best Bullshippers". This is a mining area but instead of gold they're now mining for gemstones. We passed sheep farms, horse farms and the beautiful Sapphire Mts. in the far distance. Don't know if they're named that because they look blue from the distance or because there are sapphires in the mountain. Then drove past Deer Lodge, MT, the halfway point between Glacier National Park and Yellowstone. We're not going to either one of these this year, we've been to both before and there are new places for us to see. Saw West Goat Mt. in the distance, at 10,793' still some snow on the top. Over Homestake Pass and the Continental Divide at 6393', then up and down the mountains into a big, deep valley to Livingston, MT. This campground is also full and they said they've had to turn a lot of people away today. Livingston is at the northern entrance to Yellowstone and although it's 100 miles away, there aren't too many campgrounds between here and there. Nice campground, big shady, grassy sites. Set up, relaxed then after dinner went to the county fair. It's a small 4-H fair with the usual cows, horses, sheep, pigs (this was pig wrestling night), best pies, quilts, etc. It also had a reptile rescue booth that would make Heather have nightmares for the rest of her life. Took a ride through town and Sacajawea Park, a big lush park on the Yellowstone River with a nice commemorative statue of Sacajawea and her child, Pomp on a horse. We seem to be traveling the same route William Clark took on his return trip east. In 1806 he was here with Sacajawea exploring the Yellowstone River while Merriweather Lewis was exploring the Missouri River. Back to the campground, walked around a bit watching people set up.
Diary Photos
---