Harry and Judy's RV Trip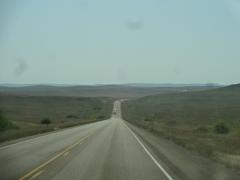 2nd Aug 2016 - Summer 2016
Day 69-August 2, 2016-To Belle Fourche, SD, the Geographical Center of the Nation
Day 69-August 2, 2016-To Belle Fourche, SD, the Geographical Center of the Nation and a good old hail storm

Drove 233 miles in 6-1/2 hours.
Hot today, 98. And more humid. Hail storm in late afternoon cooled it off a bit.
Drove the entire length of the Warrior Trail, aka Route 212, through the Crow Indian Reservation. Lots of horse ranches, then cattle ranches, big sprawling ranches, through Lame Deer, the headquarters of the Northern Cheyenne Indian Reservation. Slowed down through Ashland, 25 mph, looked like a speed trap just waiting for us. More pine covered mountains now that we're going through Custer National Forest and windy roads with steep grades. Lots of headwind that ripped the door hold-back off the door when we stopped for lunch at a roadside place called Stoneville Saloon, its motto "Cheap Drinks, Lousy Food" made us eat in the RV. And next Tuesday, not today, is "Topless Tuesday"-darn, we're too early! We entered Wyoming right after lunch and we're seeing more ranches now with mostly black cattle roaming freely on big wide open spaces. An antelope every now and then, they stand out with their light brown bodies and white tails and rumps against the yellow grasses and wheat. Lots and lots of wheat. Big trucks coming at us that are overloaded with wheat bales. In and out of Wyoming in less that 20 minutes then to So. Dakota. Continued to Belle Fourche where we stopped for gas and some groceries. We went to two different stores thinking they had groceries (they didn't) before we finally asked somebody where there was a grocery store. They pointed us to Lueder's, a small store, not much selection and high prices. Stopped at the Geographical Center of the Nation (including Hawaii and Alaska) Monument and museum. We were here on a previous trip but the museum was closed. Followed the GPS to an open pasture that was supposed to be the campground. Our first clue that we were off course was the "Welcome to Wyoming" sign again. The campground is in So. Dakota. Of course, no cell service, so we turned around, went back into So. Dakota, was finally able to call and found out we took a right when we should have taken a left. We went eleven miles out of our way so we had to go back eleven miles. Nice campground, Wyatt's Hideaway, right the Redwater River, a fast moving, narrow river. Set up, sat outside for about an hour until the wind picked up with dust and limbs blowing all over the campground. I was a little bit too late going inside and got a mouthful and eyeful of dust. And then the thunder and lightning….and then the rain, no, not rain….HAIL!!! The RV rocked, chairs, tables, limbs blew all over the campground, we lost power and then it was over. But it continued to rain for the next few hours.
Diary Photos
Diary Movies
---