Harry and Judy's RV Trip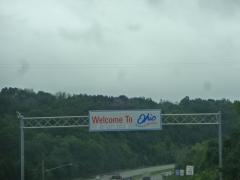 14th Aug 2016 - Summer 2016
Day 81-August 14, 2016-To Lexington, Kentucky
Day 81-August 14, 2016-To Lexington, Kentucky
Drove 187 miles in 4 hours.
Rained until we pulled into campground. Only got up to about 80.
Poured all night and most of the day. Had to hitch up in the rain and mud, then drove east on I-74 to Cincinnati, then south on I-75. Bounced around through three states when we crossed over the Ohio River near Cincinnati, we were in Ohio for about 5 miles, then back in Indiana for about 2 miles, then finally into Kentucky. Stopped at a rest area for lunch, then continued to Kentucky Horse Park Campground in Lexington. After driving in pouring rain all day, the sky cleared up and the sun came out as soon as we pulled in. The campground is adjacent to the Horse Park, a working horse farm that we plan to visit. The campground has almost 300 sites, an Olympic size pool, tennis, basketball and volleyball courts, 2 playgrounds, 2 pavilions for large groups, trails, horseback riding and I'm sure more I haven't seen. It's a state campground and when I called for reservations they said the sites were only 15' apart so they gave us one with nobody on either side. But the sites are really big, grassy, shaded and there's hardly anybody here. There are a lot of robins on the lawns and we saw a couple of goldfinches. We decided as soon as we pulled in to stay an extra night. Set up, settled in, pulled the lawn chairs and books we're reading out and relaxed. Rained for about a half hour while we had dinner, then we took a walk and met the security patrol for the campground….the Horse Park Mounted Police, Julie on McKenzie and David on Sunny. We heard their clip, clop before we saw them. Guess oats is cheaper than gas.
Diary Photos
---