sailingfastforward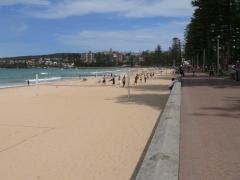 29th Nov 2007 - 12th Dec 2007
Stunning Sydney!
28 November – 12 December
As the Boeing banked and prepared for landing, we caught our first glimpses of the famous Opera House and Harbour Bridge… and the many skyscrapers we were soon to be dwarfed by. We couldn't wait! Sydney is Australia's gateway city and capital of New South Wales, and is built around one of the most beautiful harbours in the world. With countless beautiful bays and golden beaches to the north and south of the city, we knew two weeks was only going to give us a taster…
Armed with our Weekly Travel Pass (which allowed us unlimited travel within the city limits - on trains, ferries and busses) we hopped on the train to the City Hall Station, and 25 minutes later we were wheeling our bags down a very busy George Street trying to find our hotel… quite frankly, we were wondering if we were in the right country as it was wall to wall Asians!
Eventually we found our hotel. The Pensione Hotel, claimed to be Sydney's most affordable boutique hotel, is modeled on the grandeur of the original European pensione hotels – combining original turn of the century building features with modern design. It's a fantastic concept because it has been specifically designed to cater to the discerning budget conscious traveler. Our booking was completed online and we got a further discount as we were staying for more than 10 days. The room was quite small, but more than adequate. The bathroom was ultra mod and very spacious. All we were after was a comfy bed on which to rest our weary bodies at the end of each day, and a television for mindless entertainment of course! The fridge was a great bonus as we could have breakfast in the mornings and drinks in the evenings : a great cost-cutting bonus in this expensive city!
Russel, Ken's eldest son, had already been living in Manly, Sydney since the beginning of October and was just loving it – a complete contrast to central London! Scott and Vikki (Ken's middle son and wife) had arrived a week before us and were staying at a hotel in Darling Harbour. Cheryl (Ken's daughter) had arrived earlier that afternoon and was also booked into the Pensione Hotel. Not only were we here to play tourist for 2 weeks, but also to celebrate Scott's 30th birthday!
We spent our first evening wondering around the rather spectacular Darling Harbour - intended to be one of Sydney's "buzz" places. This former dockside area has been transformed into a major tourist site – the main attractions being (in no order of preference!!), the IMAX theatre; Aquarium; Harbourside Shopping Centre and international food court, boasting 40 outlets (too much choice for lunch!!); Chinese Garden of Friendship; National Maritime Museum, and not forgetting Cockle Bay Wharf (on the city side of the harbour)which is supposedly, the "in" place to be – it's a vibrant mix of cheap-ish eateries; bars; café's, and posh restaurants which have apparently given the harbour a much-needed boost. Our choice for the evening was Wagamama. Rus was catching the ferry back to Manly from Circular Quay, so he managed to somehow convince us to walk a good couple of kilometers to have a few drinks at The Rocks before he left to go home.
The Rocks and Circular Quay is bursting with a colourful history dating back to convict days. It's a maze of sandstone lanes, cul-de-sacs and courtyards, jam-packed with shops, warehouses and terraces that were built in the early 19th century. It was once home to Sydney's dockworkers and stevedores; but it's now a magnet for international visitors who flock to its many shops, boutiques, pubs and restaurants. Circular Quay is a constant hive of activity especially during the daytime as it's also the ferry terminal.
Scruffy Murphy's – only a block from our hotel… the best value for money dinner deals! Buy a drink and get the choice of steak & chips; chicken & chips or fish and chips for $5! So guess where we ate every other night….
We got the most out of our days exploring Sydney's more popular attractions like the Aquarium, Maritime Museum, Opera House and Botanical Gardens – (the very tame Cockatoo Parrots were a hoot!). After the first couple of days our sore legs and knees were still trying to get used to the high mileage, so out of desperation decided to take glucosamine with condroiton in liquid form every morning to ease the knee pain!!! I eventually loved my pedometer again, and by the time we retired at night, we'd easily clocked up between 10 – 13kms a day… a sharp contrast to our fairly sedentary lifestyle on the yacht!
TORONGA ZOO
One of the highlights was a visit to Taronga Zoo, Australia's leading zoological garden featuring their finest collection of native animals. What also made this zoo special was the location. Situated on elevated land along the waterfront in one of the most beautiful vantage points on Sydney Harbour, it overlooks the Harbour Bridge and the Opera House. The zoo has their own jetty so we arrived by ferry. After purchasing our entrance tickets, we were transported to the top entrance by the Zoo Sky Safari Chair Lift – what a seriously cool way to get aerial views of the zoo and harbour!!
It was a good idea starting at the top as we'd then be walking downhill facing the harbour and taking in the magnificent views all the time. Unfortunately it was drizzling that morning – but perhaps it worked in our favour as it was Saturday and the zoo could've been unbearably busy – we also thought that perhaps more animals would be out instead of hiding in the shade!! Aah, the power of positive thinking.
Beautiful little koala bears were waiting just across the entrance - which set off a very verbal "aaaaahhhh how cute" from most of us!!! These little furry creatures are VERY VERY cute, and are not phased by anything – in fact, they don't ever appear "fully awake"! But whether eating or sleeping or "in a constant state of semi-slumber", they are just seriously cute (with a cute factor of at least 20 out of 10!!!!). Sadly, New South Wales law states that you are not allowed to hold or touch a Koala… unless you are a zoo keeper of course!
Anyway, armed with a map (and a pen to cross things off!) we set off. The zoo was very well laid out – but we soon discovered a map was essential! We zigzagged our way along the paths among the animal enclosures which featured just about every animal you could think of – from lungfish to rare frogs; boa constrictors to rhinoceros vipers; snapping turtles to spur-thighed tortoises; crocodiles to frilled lizards; emu's to black swans; condors to kites; pigeons and budgerigars to sulphur-crested cockatoos, and blue & yellow macaws; wombats to sunbears; wallabies to Kangaroos (naturally!); bandikoots to mannikins; on and on it went : rats, monkeys, seals, tigers, Asiatic elephants, tapirs, lions, hippo's… the list was endless!! My personal highlight was the ever elegant and graceful giraffes… my goodness, I could not believe their size as this was the closest I'd ever been to one; and how beautiful those eyes and long eyelashes were - (coming from South Africa does not mean we all run wild – together!). Cheryl and I were captivated, and in no time they were too as we pushed yummy green thorny bushes closer for them to nibble on – which were previously very much out of their reach!! Mmm are we supposed to be doing this?
The only thing we were all hoping to see was the Tasmanian Devil – which, amongst a variety of other creatures, was unfortunately nocturnal!! Wait for it - this is how cool this zoo is: if we were "Roar & Snore campers" we could pay extra and sleep in a two to three-person tent pitched under the stars and get to see all the nocturnal animals!! What a brilliant idea, but not today.
We clocked up over 16kms that day, and were quite happy to get home, showered and on the ferry to Manly to meet Russel for supper (for some of the best pizza we'd ever had!!).
We marveled at how clean the city centre was - despite walking back late at night in jam-packed streets which were strewn with cigarette butts and empty beer bottles by the party revelers, by morning – as if by magic – the place was spic and span!! (we were walking back at 2am because there were NO taxi's about!).
Sydney, with a population of around 4 million is Australia's most densely populated city. As in most big cities, there's such a diverse cross-culture of people, and not surprisingly, 40% of Sydney's residents were born overseas! We found it a friendly city offering many activities and attractions. The beaches and harbour play a major role in the lives of locals, and whenever we were out on a ferry we always saw at least 2 yacht races on the go. Of course there are countless other water/beach-related activities to choose from! If these don't grab you, then perhaps a 90 minute drive to the picturesque Blue Mountains could do the trick?
SCOTT'S 30th
With the Opera House being Sydney's most famous landmark, I thought the Harbour Bridge was a definite second as it almost always appeared in the background of the former! A Bridge Climb was booked for Scott's birthday. Very exciting indeed. We'd organized a surprise birthday cake and candles, and made our way over to their hotel around 11am, we all got "Scott's 30th" T/shirts with our names on the back (just in case we got too drunk?) to wear for the day.
We were booked to do the sunset climb and had to be there by about 5pm. Vicki was just about hyperventilating, and I got ripples of anxiety at the thought, but once I saw just how professional and safety conscious they were, it was a piece of cake – but, Vicki was still VERY anxious. We all got a BridgeSuit to put on over our clothes, but as it was rather hot that day, they advised us to strip off and only have the BridgeSuit on. Lockers were provided for all our other items. No cameras were allowed though! We were in a group of about 12, and before we set off we had to participate in a Climb Simulation, which would give us a feel for the conditions. Our professionally trained and very friendly Climb Leader introduced us to the Ladder and Stair procedures, and the use of our harnesses – which would be attached to a static line on the Bridge at all times. Next we were issued with headsets so that we could hear the commentary from the Climb Leader. Like clockwork, we were the next group being churned out - and off we went! The bridge is an amazing structure, and is the world's largest (but not longest) steel-arch bridge.
Some bridge trivia:·
NSW government awarded the construction contract to the English firm Dorman Long and Co. for the odd sum of £4,217,721, 11 shillings and 10 pence on 24 March 1924 ·
Construction began with the 'turning of the first sod' on 28 July 1923. ·
Over 1500 workers were employed on the Bridge each year over the eight-year building period. Sixteen workers lost their lives during the construction ·
The steel girders were brought into position by barges floating in the Harbour. The steel was lifted up by two 580-tonne creeper cranes mounted on top of the Bridge. These cranes built the Bridge out before them as they inched forward ·
There was great excitement on 19 August 1930 when the arch was successfully joined at 10pm. The steel decking was then hung from the arch and was completed in nine months. It was built from the centre outwards to save time moving the cranes ·
Finally, the Bridge was test loaded using up to 96 steam locomotives placed along the tram and train lines on the Bridge ·
At the completion of the project the cost of the Bridge had risen to over £10 million, more than double the original quote. The final payment for the construction loans was not made until October 1988. So there we were posing for strategically placed digital cameras, 134 meters above Sydney Harbour. What a magnificent view! You could see for miles as it was a perfectly cloudless day! We were relieved that we did not start the climb any later as it could've been very tricky – even with headlamps! After purchasing a few horrendously priced pictures we dashed off to continue Scott's birthday celebrations at the Peter Doyle fish restaurant.
BONDI BEACH
Then there's the world famous Bondi Beach. "Bondi" or "Boondi" is an Aboriginal word meaning water breaking over rocks or noise of water breaking over rocks. It has appeared in more postcards and TV travel shows than any other beach in Australia. Why is it so talked about and a "must-see" attraction? After spending a windy and drizzly morning there, we still can't figure out why. There was nothing spectacular about the place – and no, we're not jaded. As well as being very accessible, and only 11kms from Sydney, it is quite picturesque - Bondi is, in essence, a bay - and as you drive into the town – the expanse of the 1km beach and sea are to your right and the "town" is to the left. It's inhabited by backpackers, billionaires, board riders and the body beautiful (and not so beautiful!) – and could possibly be one of Sydney's most eclectic precincts. We walked through the main thoroughfare of Campbell Parade and passed a wealth of surf shops, takeaway outlets, souvenir shops, café's, restaurants, bars… and of course fish and chip shops! But we could've been anywhere along the coast.
Not being surfers, perhaps it IS all about the surfing. The Surf Lifesaving Association has given different hazard ratings, and while the northern end has been rated a gentle 4 (with 10 as the most hazardous), the southern side is rated as a 7 due to a famous rip current known as the "Backpackers Rip" (also known as the "Bondi Tram" or the "Bronte Express" because you would supposedly end up at Bronte - two beaches south - if caught in it!). In actual fact, there are up to five rip currents operating along the beach, the Backpackers' Express being the one closest to the designated swimming area. Maybe this is it – Bondi's adrenalin rush?
The following day found us headed out of the city on a train to meet up with an old school friend whom I hadn't seen in 16 years!!! FaceBook is just fantastic isn't it? We got back to Sydney around 7pm and met up with Cheryl for a bite to eat at – you got it! – Scruffy Murphy's!
Our holiday was almost over, but Cheryl was staying for another 3 ½ months – so she was desperately trying to find some shared accommodation, preferably near Russel in Manly. A day or two later she found a place not even 10 minutes walk from him – and she'd be sharing with a fellow South African! She was stoked!
Our last half a day was a race against time – we rushed off to buy some bed linen, a small clothing rail and a few odds and ends, then lugged all this stuff on the ferry to Manly – our timing had to perfect, cause if we missed this ferry we'd miss our taxi to the airport!! As quickly as we could we lugged all this stuff up the steep road to Cheryl's new home, had a very quick look around, said our goodbyes and just about ran back to catch that same ferry back to Sydney – just making it as it was already sounding it's horn!! Exhausted, we slumped back in our seats and were able to relax for the next 30 minutes enjoying the views of the beautiful harbour and the famous landmarks…
Our next surprise was from Qantas… at the check-in desk we were told that there were technical problems with the plane and that there was a 4 hour delay. Well a "technical problem" is exactly what you want to hear when you're going to be traveling on that particular aircraft for over 22 hours isn't it?! So they gave us meal vouchers as compensation for the inconvenience…
Eventually, surrounded by chattering Chinese, we donned our flight socks and slipped into a deep sleep as we headed towards Singapore, and finally London Heathrow. Who knows, perhaps we'll be in for a white Christmas!
Diary Photos
29th Nov 2007 Manly beach
No Description
---
29th Nov 2007 Manly
No Description
---
29th Nov 2007 He played wonderful music... even bought the CD!
No Description
---
29th Nov 2007 Nice!
No Description
---
29th Nov 2007 Circular Quay... overlooking the Opera House
No Description
---
30th Nov 2007 Boomerangs boomerangs everywhere!
No Description
---
1st Dec 2007 Toronga Zoo - isn't it the most gorgeous thing you've ever seen?
No Description
---
1st Dec 2007 Toronga Zoo - he's barely able to stay awake - even whilst eating!
No Description
---
1st Dec 2007 Toronga Zoo - the elegant Emu?
No Description
---
1st Dec 2007 Toronga Zoo - Look at little Joey!! Aaahh cute man!
No Description
---
1st Dec 2007 Toronga Zoo - more deer
No Description
---
1st Dec 2007 Toronga Zoo - incredible little racoons
No Description
---
1st Dec 2007 Toronga Zoo - one of the most beautiful birds I've ever seen
No Description
---
1st Dec 2007 Toronga Zoo - no clue what it's called!
No Description
---
1st Dec 2007 Toronga Zoo - Asian elephants...
No Description
---
1st Dec 2007 Toronga Zoo - the king of the jungle is knackered!
No Description
---
1st Dec 2007 Toronga Zoo - dear - these pesky flies are keeping me from my beauty sleep!
No Description
---
1st Dec 2007 Toronga Zoo - Hey Billy!
No Description
---
1st Dec 2007 Toronga Zoo - look at me!! I am sooooooooo cute!!!
No Description
---
1st Dec 2007 Toronga Zoo - eutopia!!
No Description
---
1st Dec 2007 Toronga Zoo - hasn't he got the most beautiful colouring?
No Description
---
1st Dec 2007 Toronga Zoo - is this what you call a "bad hair day?"
No Description
---
1st Dec 2007 Toronga Zoo - pleeeeze push it just a wee bit closer!
No Description
---
1st Dec 2007 Toronga Zoo - oh my goodness, life is so tough!
No Description
---
1st Dec 2007 Toronga Zoo - very tough life indeed...
No Description
---
1st Dec 2007 Toronga Zoo - absolutely gorgeous aren't they!!!
No Description
---
1st Dec 2007 Toronga Zoo - mmm those leaves were delish!
No Description
---
2nd Dec 2007 At the summit! We made it!
No Description
---
2nd Dec 2007 Scott's 30th birthday cake
No Description
---
2nd Dec 2007 Us in our shirts facing the dreaded bridge!
No Description
---
2nd Dec 2007 The Rocks
No Description
---
3rd Dec 2007 Chinatown... downtown Sydney
No Description
---
3rd Dec 2007 Darling Harbour
No Description
---
3rd Dec 2007 Darling Harbour
No Description
---
4th Dec 2007 The very stylish 3D movie specs!
No Description
---
4th Dec 2007 Replica of Straussberg clock
No Description
---
8th Dec 2007 Sydney Opera House
No Description
---
8th Dec 2007 View of Circular Quay from the Opera House
No Description
---
8th Dec 2007 Auds & Cheryl
No Description
---
8th Dec 2007 The very impressive Opera House
No Description
---
8th Dec 2007 View from Botanical Gardens
No Description
---
8th Dec 2007 No explanation necessary!
No Description
---
8th Dec 2007 Came across a wedding in the Botanical Gardens...
No Description
---
8th Dec 2007 Pesky but beautiful cockatoos
No Description
---
8th Dec 2007 All they wanted was peanuts!
No Description
---
8th Dec 2007 Cute!
No Description
---
8th Dec 2007 Unusual flower...
No Description
---
8th Dec 2007 Thousands of flying foxes live in Sydney... a pest indeed
No Description
---
8th Dec 2007 Nice view of the city
No Description
---
9th Dec 2007 Bondi Beach!
No Description
---
9th Dec 2007 Bondi Beach... thirsty work all that flying!
No Description
---
9th Dec 2007 Bondi Beach...
No Description
---
9th Dec 2007 Bondi Beach... nice sidewalk benches
No Description
---
9th Dec 2007 Bondi Beach... more sidewalk art
No Description
---
9th Dec 2007 Bondi Beach... and more
No Description
---