sailingfastforward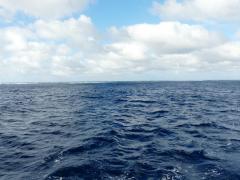 6th Jul 2008 - 8th Jul 2008




Minerva Reef





6-8 July 2008

S23.36 W178.56

North Minerva Reef

Minerva Reef – a strange phenomenon if there ever was one. A nearly perfect circle of coral reef shoots up from the abyssal plains to the surface of the sea. The lagoon spans about 4 kms across – and the reef is entirely under water at high tide. Both North and South Minerva are as used as anchorages for yachts traveling between New Zealand and Tonga and Fiji. Although North Minerva offers the more protected anchorage, with a single and easily negotiated, west-facing pass that offers access to the large lagoon. Yachts often stop here to wait for more favourable weather conditions before continuing their journey. Possibly the main attraction is the fact that it is totally uninhabited and there are reports of abundant fish and lobster! We found the idea of an unspoiled environment little-disturbed by humans, very appealing… On arrival, we had the entire place to ourselves. 3 others were expected the following day, so it was great to relax and take it all in by ourselves, especially with a celebratory G&T at 5pm! Our first drink since leaving New Zealand. Gee it was GREAT to FINALLY be away from New Zealand. I thought we were never going to leave! Low tide came about at 4pm on Monday, so we dinghied towards the exposed reef dodging the many shallow coral mounds (cursing at the odd "crunch" every now and then!). Getting ashore was a rather unique experience too… Ken powered the dingy forward into the coral ledge (which was like a mini waterfall), and I flung the anchor onto the reef and then we carefully stepped out onto the coral ledge (which was not as slippery as I initially thought!). It was AMAZING! Once we set off we could not believe how wide it was – surely at least 150m across? We walked over to the other side that was being pounded by wind driven waves. It really is amazing how the reef withstands these constant pressures decade after decade. I was lucky enough to find a few beautiful cowries too, so I was thrilled – a new batch to start off the new season! The water temperature was getting noticeably more tropical – although still not enticingly warm enough for me to simply jump into the water yet!! When the sun was out it was hot, but come 3 or 4pm it was usually "refreshing", especially with a constant 20-25 knot SE blowing! Nighttimes were cool enough to only need a duvet… aah gone are the days of having to sleep in socks, microfibre track pants, thermal vests, a duvet and 3 layers of blankets!! Roll on summer! Our Kiwi friends on Wind Star arrived soon after we went "ashore" and we had them round for drinks later that evening. They were thrilled to have made it safely to Minerva, and in good time too – this being their first offshore passage and all! They are headed to Tonga for the season – and sadly we may never see them again! We also met another wonderful couple on a boat called Lopto. They too were off to Tonga, but should see them again in Fiji later on in the season. The initial plan was to stay in Minerva for about 5 or so days before heading to Fiji. We had to time our arrival just right for Fiji because they charge steep overtime fees… so to arrive before 4pm on a Friday, the latest we could leave would be at sparrows on a Wednesday. I was getting daily weather updates and noticed that the winds would be turning to Northerlies on the weekend – which would not be a good situation for us to be in here at Minerva. SO everyone was going to flee to Tonga and Fiji that next morning! The forecast seemed good: 20-25 gusting 30 knots SE. It was such a shame to have to leave, but in this game it's the weather we obey! A bit of history for those who are interested. The atolls were named after the whaleship Minerva was wrecked on South Minerva after leaving Sydney in 1829. Another famous incident occurred on the maiden voyage of the wooden schooner Strathcona, sailing north soon after completion in Auckland in 1914, only to unexpectedly crash up onto South Minerva Reef on the sixth day out and break apart. The crew of 13 consolidated materials and constructed a raft to live aboard in the lagoon, and then the captain and three crew sailed the schooner's launch north to the nearest inhabited island, Ono-i-Lau, Fiji. Meanwhile a rescue vessel from New Zealand found the survivors on the raft at South Minerva, as well as the rescuers returning aboard a Fijian cutter to save their crewmates.

Many other wrecks on the two reefs are mysteries, with hulls and remains noted by passing vessels at various times and no signs of survivors. One such wreck was a largely intact Japanese fishing vessel that appeared in 1960 on South Minerva, the crew apparently taken off safely by the crew of another fishing vessel, whom they were able to contact by radio. This wreck was to play a critical role in what remains one of the most incredible maritime survival tales in recent history.

The tragedy of the Tuaikaepau Tuaikaepau was a 51-foot wooden cutter completed in 1902 at the same Auckland boatyard that later built the Strathcona. On the night of July 7, 1962, she was bound from Nuku'alofa for a refit in New Zealand, booming along close-hauled in boisterous southeasterly conditions. Experienced captain David Fifita commanded the seven-man crew and 10 passengers, mostly amateur boxers looking to make some money in New Zealand. The vessel smashed onto the eastern side of South Minerva Reef at seven knots in the darkness. This started a 14-week odyssey that would see only 12 of the men survive.

The 17 Tongans took refuge in the Japanese fishing boat wreck, constructed an ingenious water-distillation plant, and fed themselves by walking the reef flat to fish and collect seafood. Finally on Saturday, October 7, with three men dead, conditions becoming increasingly desperate, and hopes of rescue long gone, Fifita, his son Sateki, and ship's carpenter Tevita Uaisele embarked on an epic rescue mission in a small craft crudely fashioned (with no tools) from remains of the two wrecks. David set a course for due north, armed only with a compass, sextant, nautical almanac, and a crude chart engraved on a plank, and no way to measure time accurately. He navigated by sun shots and dead reckoning. By Wednesday they were out of food and water. On Thursday they managed to catch a seabird that landed on the tiller and drank its blood. They bypassed treacherous, reef-encircled Ono-i-Lau and Matuku, and at midnight the following Saturday, in greatly weakened condition, David calculated that it was time to head due west in hopes of reaching much larger Kandavu.

The mountainous profile of the eastern end of Kandavu jutted above the horizon at dawn, confirming David's emer-gency navigation skills and filling the severely dehydrated, starving men with hope. They sailed cautiously toward the reef, only to have an oversized breaking swell toss the sturdy wooden craft crashing over the reef, throwing the occupants overboard and capsizing the boat. This left little choice but to attempt a swim against the tide to the tiny outlying island of Nmbia approximately 1.3 nautical miles away. David's son disappeared two thirds of the way to shore. The two survivors dragged themselves up the beach, quenched their thirst with green coconuts, and hiked to a village to summon help for their crewmates back on South Minerva.After some confusion, word finally reached the Royal New Zealand Air Force station at Suva, and the commander ordered an immediate night flight Monday to drop supplies to the survivors on South Minerva, followed by a rescue via Sunderland flying boat the following morning. The supply flight likely saved the life of at least one of the weakened castaways, though one man had died the previous evening.



Diary Photos
6th Jul 2008 FINALLY! Minerva Reef!!!
---
6th Jul 2008 Minerva Reef, just out there in the middle of nowhere...
---
6th Jul 2008 Minerva Reef - BLISS!
---
7th Jul 2008 Just beautiful!
---
7th Jul 2008 Such a treat seeing turquoise water again!
---
---
7th Jul 2008 That's me... the little speck on the left
---
7th Jul 2008 Minerva Reef - not small by any means!
---
8th Jul 2008 Ken up the mast.... taking photos!
---
8th Jul 2008 Getting "ashore"
---
8th Jul 2008 The exposed reef at low tide
---
---
8th Jul 2008 Life on the reef
---
8th Jul 2008 Wish you were here!
---
8th Jul 2008 Massive expanse of the reef
---
---
8th Jul 2008 Life on the reef....
---
8th Jul 2008 Nice sunset...
---
8th Jul 2008 Leaving Minerva Reef
---
8th Jul 2008 Blissful day of sailing
---
8th Jul 2008 Seas starting to build... photos just don't do it justice.
---