lushblog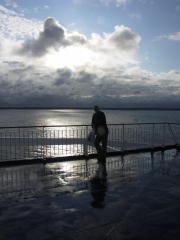 21st Aug 2008
Gettin the ferry to helsinki.
interesting facts about getting the ferry from estonia to helsinki.
1. you dont need your passport. nor are there customs. so i suggest starting a drug smuggling ring.
2. there are smoking rooms, despite the fact you can just go up on deck.
3. it has a duty free shop so large it would put many an airport to shame. and that is the place to buy your salted liquorice, black balsam, drinks that taste of salted liquorice, chocolate with liquorice pieces, and 10 packs of 50cl vodka. they like a bit of vodka..and liquorice.
4. helsinki is so expensive you will be lucky to find a bottle of wine in a bar for under €25! we had 2 plates of pasta and a bottle of wine for lunch...it came to €50!! thats £40...or $70us! needless to say most people just sit and drink on the street..carrying a case of beer in each hand..or that famous 10 pack of 50cl vodkas.
5. there are saunas in bars next to the toilets. saunas in finland are not brothels..they are really saunas..and they are mixed...and nude!
6. there is a whole, very plush and expensive street where the pavements are heated in the winter.
7. most restaurants are self-service! hence the fact that there is very little tipping in finland.
8. the ferry, which leaves helsinki at 9.30pm, has a karaoke in the bar...featuring such fabulous finnish, or are they estonian, folk songs as 'andre', 'ara alusta', and 'suitsetamine voib tappa'. actually the latter is the warning from the cigarette packet lying next to me..but who is to know? these are sung usually by ageing men, and couples get up and waltz to them. needless to say, by this time...ie 11pm..at night everyone is steaming. though not as much as the man i saw in the ladies toilet in the ferry terminal when we got back to tallinn...i thought he was dead...but no. just comatose in the ladies...you know..as you are!
9. they love a big bike, long hair, beards, leather and heavy metal..but strangely the men all appear to have very small feet.
10. you can buy bear meat but it costs €85 a kilo..and who would know how to cook it!
11. the weather is brilliant..warm enough to sit outside of an evening eating that pasta and drinking that wine that costs €50, and it doesnt get dark until the ferry leaves.
12. the ferry is swedish built..perhaps it comes as self-assembly..but imagine the alun key you would need!
13. i really enjoyed it, a real adventure...but i wouldnt want to live there. edinburgh is as far north as i ever want to live..trust me..i used to live in inverness!
Diary Photos
---